By Andrea Jill Greenleigh
DC Local Music Examiner
The title of the new CD/DVD 3 disc set by legendary pioneer of the Go-Go genre, Chuck Brown, is We Got This.  If the "we" is Brown and his band, then they sure do.   In this set, the Godfather of Go-Go,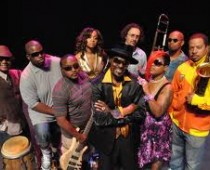 not only gives us live performances on one of the CDs and the DVD, but he also delivers five new studio cuts as well.