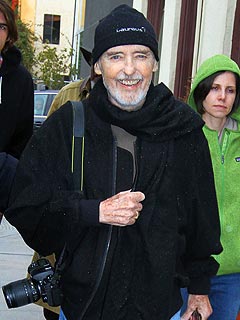 Dennis Hopper, whose pot-addled Billy in Easy Rider and psychopathic Frank Booth in Blue Velvet helped put the icon in iconoclastic, has died after a decade-long battle with prostate cancer. He was 74.
The legendary actor died about 9 a.m. Saturday surrounded by family in his Los Angeles home.
Taken ill with flu-like symptoms last September, Hopper later said he was suffering with prostate cancer. Family members told PEOPLE that the disease had spread to other organs in his system.
Born in Dodge City, Kansas – his father, Jay Hopper, reputedly was an intelligence officer in the pre-CIA Office of Strategic Services, which explained his son's peripatetic American upbringing – Hopper was 19 when he was cast in his very first movie opposite none other than James Dean: 1955's
Rebel Without a Cause
. Hopper played a character named "Goon."
Known off-screen as a rabble-rouser and impossible when it came to taking direction, the young Method actor was soon virtually blacklisted from movies. Resorting to TV dramas and even moonlighting as a Vogue photographer, his turnaround came in 1969 when he joined forces with Peter Fonda, screenwriter Terry Southern and a then unknown B-movie actor named Jack Nicholson to costar in and direct a $400,000 road picture called Easy Rider.