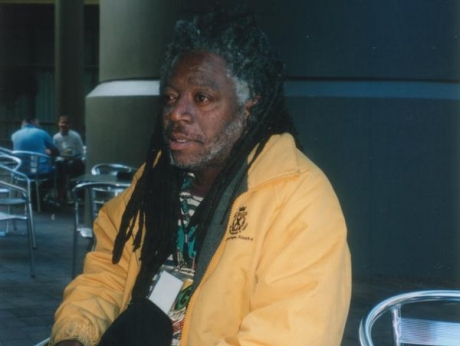 Original P-Funk Guitarist vocalist and Rock n' Roll Hall of Famer Garry "Diaper Man" AKA "Starchild" Shider, best known as the musical director of George Clinton's Parliament and Funkadelic bands, passed away of cancer yesterday, just a little over one month shy of his 57th birthday.
Like many funk pioneers of the '70s, Shider got his start by playing in church. As a teenager, he sang and performed in support of the Mighty Clouds Of Joy, Shirley Caesar, and other prominent gospel artists. Years later, singing far-out funk with Parliament, that gospel spirit was still evident in his vocal performances. He was still bringing them to church — only that church was located somewhere in deep innerspace.
Shider met George Clinton in the late '60s at the famous Plainfield barbershop that acted as P-Funk's base of operations. Shider's vocal and instrumental talent impressed Clinton. After a detour to Toronto, Shider was called back to Jersey by the head honcho himself.
Over the years, Shider became one of Clinton's most trusted lieutenants, calling the P-Funk army to attention with his vocal on "One Nation Under A Groove," and sailing bravely into the ether on "Cosmic Slop." He co-wrote some of the band's biggest hits and, as a guitarist, he could be incredibly patient, repeating the same phrase over and over — until he combusted into a fiery solo or a stinging riff. Guitar Player magazine featured him three times.
After playing on Funkadelic's "Maggot Brain," Shider joined P-Funk for good in 1972. He contributed guitar and vocals to most P-Funk releases thereafter, including Bootsy Collins' solo albums.
WATCH VIDEO CLIP BELOW: