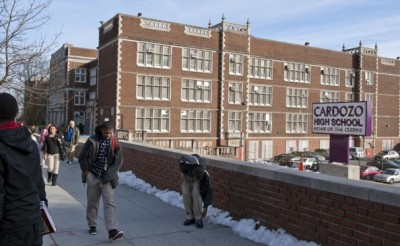 Through a generous donation by the Abramson Family Foundation, students at Cardozo Senior High School in Northwest will now be able to help pay for their college tuition with a scholarship through the District of Columbia College Access Program (DC-CAP).
The Tower Scholarship will award $5,000 a year for up to five years to students interested in majoring in business. Ten students a year will receive the scholarship for Cardozo High School's graduating classes of 2013-2017.
"What a great opportunity for Cardozo students to help pursue their college dreams," said DCPS Chancellor Kaya Henderson. "I'm thankful to The Abramson Family Foundation for their generosity and excited for our students as they begin to finalize their college plans."
The scholarship will recognize deserving Cardozo students who best illustrate an interest in business or business related majors, and demonstrate leadership, tenacity and perseverance, qualities displayed by the scholarships benefactor, Albert "Sonny" Abramson.
[post_view]