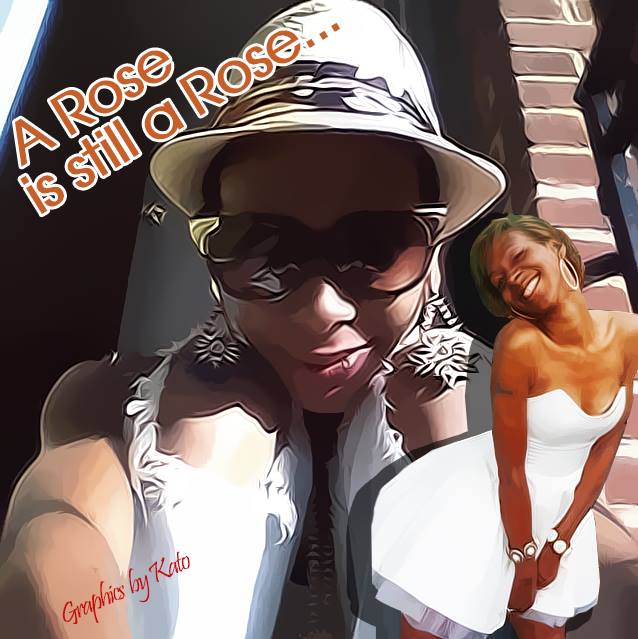 There are 17 year olds taking senior pictures, preparing for SATs, studying for their driver's license, whipping, nay-naying, quanning and ignoring you right now because of those earbuds they never seem to take out of their ears.
They are posting memes of RGIII, bashing rival football teams and discovering that there were five members of NWA, not just three.
Pictures of countless other teenagers are plastered all over my Facebook reporting to work, school and boot camp, their families annoyingly snapping pictures every step of the way.  My own 18 year old is waiting for her books to arrive as she continues to adjust to college life.   As I fill my calendar with parent meetings, football games and cheer competitions, sneaking peeks at my teen's social media accounts in between time, I am terribly heartbroken.
There is another 17 year old sitting in a cell, hopefully for the rest of his life, for senselessly murdering my friend as effortlessly as these other kids post a snapchat or send a tweet.   I am painfully aware that a person the same age as my child has taken a mother away from her children in a world where sometimes a mother's love is all you
have.  While some teens are ducking the responsibility of waking themselves up in the morning this kid has taken on the responsibility of creating an absence, a void in the lives of so many people.  My comprehension is at an all-time low; my confusion is at an all-time high.
I am well aware of what happens in the streets, what certain conditions can do to a person, how life can change the best of us.  I know all too well what happens when you're angry and the sometimes lifelong consequences of making a bad decision, even when those consequences don't let up and you're dead tired from endlessly paying your dues.
I know what thoughts and emotions occur when your blood is boiling and you grind your teeth, the taste of blood flowing from the back of your throat as the tears well up in your eyes, so hot that you can't see and you have to remind yourself to breath!
These excuses don't excuse a thing when so many of us have turned our lemons into lemonade, made something out of nothing, turned tragedy into triumph just as Tenika did.  Now her children and family will have to do the same.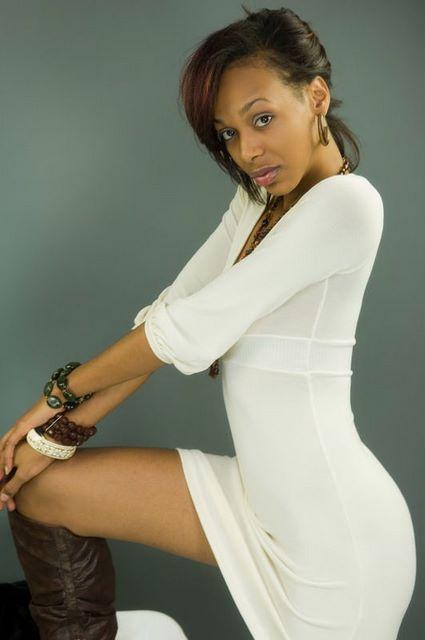 Tenika was constantly grinding and turning over ideas and possibilities with her loved ones.  She was very excited about life, recent breakthroughs and personal victories.  She cooked, did hair and made clothes.  I recently asked her if she had to choose which would she do.  She laughed but quickly got serious, responding "That's not a fair question, that's like asking me to choose between my son and my daughter".
Her eyes would get big right before her thoughts erupted into a large smile, some joke, some jone; she was funny, witty and silly.  She was always recording, always taking pictures, lending her long arms, smile and pose critique to group selfies.  Kevin Durant, her son playing for the Redskins (even though they are Cowboys fans), Leo Season-to include her and her daughter's upcoming birthdays were our most recent topics of conversation.
Tenika was an artist. Nicknamed Skinnie Pimp by Buggs of the Junkyard Band, she was very stylish, lending her lean physique to artistic projects like modeling and music videos.  Taking cues and lessons from her grandmother, she spent time creating, customizing and designing clothing and accessories to include her very popular tutus, belts and scarves for all shapes and sizes.  Described by Ms. Chuk of SOS as  "indescribable on the mic", she was also a writer and rapper appearing with the Junkyard Band, Backyard Band and as a member of the group SOS, (Sensations of da Opposite Sex) as a rapper.
Tenika was so many things, a daughter, a cousin, a big sister, a friend, a mother… but most importantly in her short time here, Tenika inspired, imperfections and all.  She shared, she cared, she would feed you and then eat if possible.  She never claimed to be something she was not.  She expected people to take her as she was and to appreciate her effort.  She made me question the value of my life in a cubicle and inspired me to focus on the things that I love.
---
Lavert Cole aka T-Bob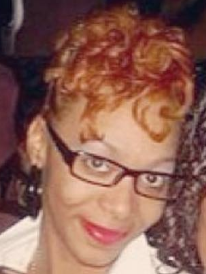 Skinnie Pimp, Tenika Fontanelle, she had real good stats, she was so vicious in the game with the spit, the lyrics, she had her own lyrics, she followed the leader just like I did, she learned from the best.  On her behalf, she was a gorilla in the game, straight up. She was a woman about her business and as a sisterhood, ya'll taught her real good, she was taught real good.  She was a sweetheart.  Everybody has their trials and tribulations and downfalls and uproars and whatever you wanna call it but Tenika was a special person.  I tip my hat off to her.  Things happen, things change and it's the way of the world.  Unfortunately we have a soldier that's lost, I wish she was still here to represent and give out to the world what she had to give to the world.  I wish she could just be here to do it.  She's just gone too early man that's all.
---
Chimaiah Coles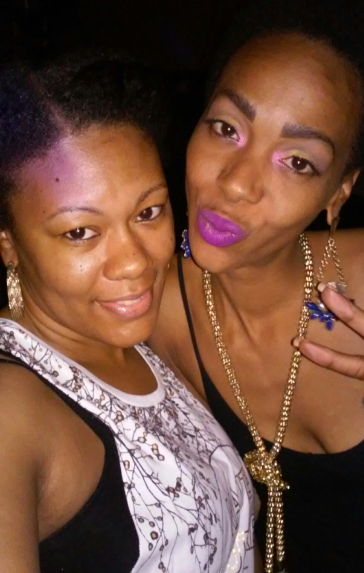 When Tenika died I was and still am just totally devastated and overwhelmed with grief. It felt like a part of me had just died. I know I had to face the reality of her untimely death when we arrived at the hospital. Many of you called/texted and in boxed me but I couldn't get it together to talk to anyone. I couldn't even log on Facebook to read the post or messages nor listen to my voicemails but here I am.
I loved her unconditionally and she knew that, but I'm truly happy God has placed her in my life as well as yours.
We all know to be absent from the body and present with the Lord. Her spirit has separated from her body and moved into its eternal abode. She is in heaven with our Lord and Savior. God have done enough!
I know that our faith is strong, and I want to encourage everyone including myself to hold on to it. Faith is the evidence of things unseen. Even though we can't see a reason for what has happened, we can have faith that there is a reason in His plan.  I love all of you and am sincerely thankful for your thoughtfulness.
You were creative. You were lyrical. You were inspired. You were an inspiration and inspirational. You were spiritual, you were blessed. You were a fighter, fighting for what's right. You were colorful, you were entertaining. You were spoiled, but you were lovable, loving, and loved.  You were wise, you were a teacher, you were giving. You were encouraged. You were special. You were happy, you were sad, you were life.  You were beautiful, she was Skinnie Pimp!
---
Zakia Haight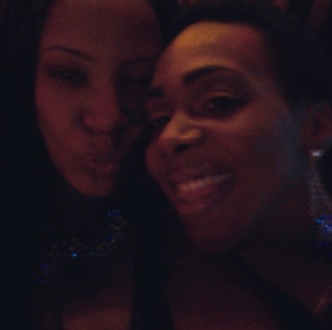 Tenika… my Skinnie Pimp Fontanelle…we met thru Nena and Maiah who I met thru TmottGoGo and Kato! I just had DJ…and they initiated me lovingly into the N-Crowd crew! Me and Pimp just clicked from then on.  We both shared similar views and issues on life. We could relate on a lot like the Go-Go life! We also had toddler girls close in age.   I was there for her from then on out.  Tenika watched my kids, did mine and their hair, made us clothes, fed us…SHE WAS EVERYTHING LIKE HER MOM SAID! Most of the time in the last few years we would go see BYB together…just me and her…we were more than club buddies tho…I would come over her house a lot too because I'm on the Southside a lot.  Tuesday was the only day I wasn't in SE that entire week…and that bothers me…because I could've been there and took her for a ride like we normally do…or just been there to distract her from that nonsense like I normally do…… but we will always have space for Mari and Rory and her spirit…which I feel will always be around. Love you Pimp…forever…like a sister…your Thelma…and I'm Louise!
---
Kato Hammond
So young. So promising. So full of life. So creative. So idealistic with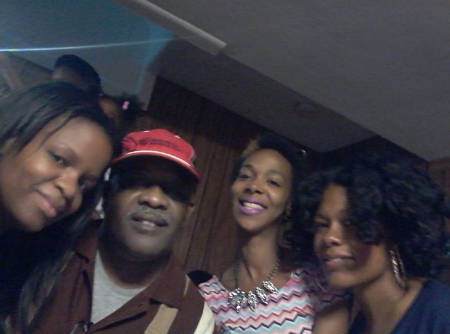 dreams and passions of perfection. So nurturing. So protective.
I could go on all day pointing out all of the inspiring things that Tenika was endowed with in her life.  I met first met her many years ago. A bright eyed 20 year old with a large smile and a bus load of dreams to boot.  And since that time, I have shared with her a space in many projects in the arts, creative, and productive aspects.  She was a member of the N-Crowd, a group of young women operating in cultural public relations, who came into existence through their common association of the TMOTTGoGo channels, as well as Go-Go music as a whole.  And as a group, they would host radio programs through the TMOTTGoGo channels, called "The N-Crowd Takeover."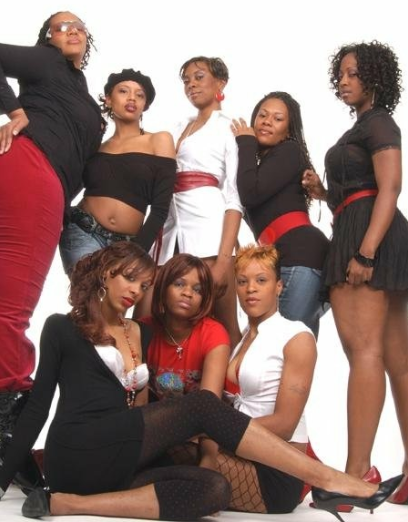 Because of her small but modelesque posture, she would sometimes share that gift with us.  Two in particular were music video projects for a band called Fatal Attraction and Bag of Beats Records, where she starred.  One was entitled "At Your Best" (a go-go version of the Isley Brothers classic), and the other was entitled "Bar 2 The Car."
And just recently before her untimely death, we were actively in the middle of a project towards building a stronger brand presence for her that she conceived, entitled The Fame Cartel.  And it really hurts to know that so many ideas that she was brewing inside of her to share with the world will now never get that chance to come into fruition.  It just doesn't seem fair.
---
Tahira Chloe Madhi
Thinking about You, fabulous Fame… It is better to have loved you for only a few moments of your life than to have never had the chance to know you at all.  Thank you for sharing in laughter and dreams with me in our first "real" conversations, not knowing that those would be our last conversations.  A woman of art, of perseverance, of laughter, of good will, of self-motivation, of goals, and of love.  You are unforgettable and you are loved.  We are not only left with tears, but with your smile, your words, and your contagious positive energy.  May we carry it all forth in honor of you.  Peace be with you, ever after.
---
Laurrie Murray aka Ms. Chuk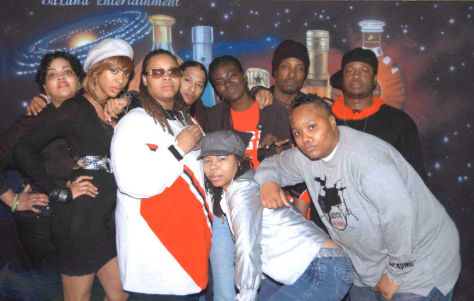 There is so much I can say about this woman ….most of u know her as Tenika, Skinny Pimp, Fame, Hollywood…….I called her Pumpkin Tart /Lady Bug.  From the moment myself and Wink (JYB) took her under our wings it was the most beautiful relationship anyone could have endured.  She was like a breath of fresh air, loving, protective very involved mother, excellent cook, hair dresser, seamstress and words cannot describe her lyrical style.  She was raw and uncut; she spoke about her life and the love for her kids.  No it won't be the same with her not physically here but the memories of our family bond will live on.  I thank God for sharing her with the world cause she was truly worth every minute of it.  We are going to miss that sense of humor and her siblings are going to miss their big sister, she will be missed for a lot of reasons but I know that God needed her more than we did.  Good job baby girl his will is done ……. I love you…. in her words Mommmmmaaaaaaa
---
Arica Jackson

Tenika was one of a kind.  I've never met anyone like her.  She had so many ideas and creations running through her head at all times.  I've never met anyone other than her that legitimately thought about owning a boutique that sells clothes, dinners and hair all in the same place.  I doubt I would've even taken anyone other than her serious had they told me that idea.  Tenika was a very creative person that didn't mind stepping outside the box or doing the things other people were afraid to.  Tenika told me every time I saw her, that I could be a model for her clothing and I couldn't  wait.  The bright colors and fluffy dresses and tutus are things I love and things she was good at it.  Tenika was free spirit.  Tenika was Tenika.  I don't know anyone else like her.
---
Tiffany aka Sweet Thang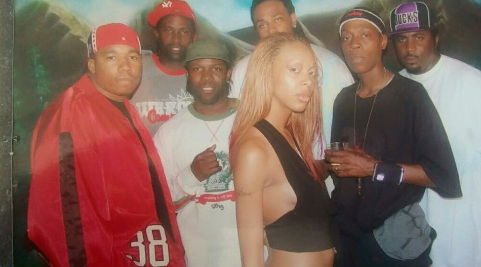 I met Tenika about two years ago, she was so supportive and excited for my journey in Go-Go even though we didn't even know each other. She would come to shows to show love and every time I seen her she wore a smile. She was such a loving and positive person and it felt completely genuine. She would encourage me to keep going and don't give up! The last time I saw her was when she came to see me for the first time with Backyard! She was so excited for me as if I were her and kept telling me "I knew you had it" and hugged me real tight. I didn't know that would be my last time seeing her but I'm glad I have that memory of her! I'd like to thank her for spreading her positive energy and love to myself as well as others…. RIP SKINNIE PIMP.
---
Bobbie Westmoreland
The first time I heard the name "Skinnie Pimp, I was bartending at the 501 Club. The Backyard Band played there every Wednesday night and Big G would regularly shout that name out from the mic.  I would always wonder, "Who is Skinnie Pimp?"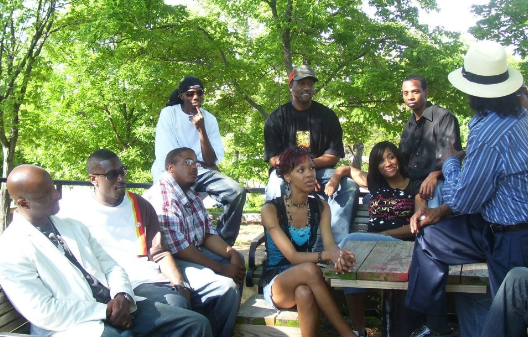 One day drummer Lushawn Foreman, who I knew through former Backyard managers Terrence Cooper and Marguerite Rice, told me about an all-girl band called S.O.S.  S.O.S. was mentored by Cooper and Rice and eventually did a show at the 501 Club.  That was when I found out who Skinnie Pimp was.  I don't know how or even if Tenika Fontanelle and I ever officially met.  We knew of each other—I knew of her from Big G's shout outs and from seeing her perform, and she knew of me from my writing for Take Me Out to the Go-Go (TMOTT) and from the TMOTT message board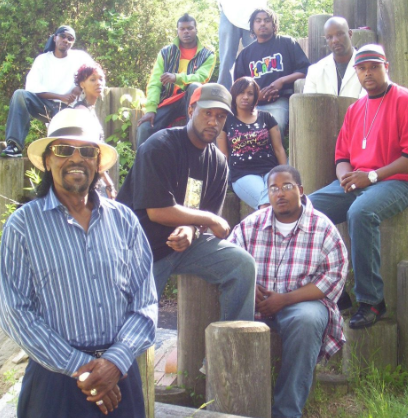 The first time Tenika and I ever really talked beyond basic pleasantries was the photo shoot for the 2006/2007 Go-Go Coalition calendar of bands.  The Coalition (I served as Treasurer) put the word out for all bands to come to Ft. Lincoln Park for a photo shoot with Chuck Brown.  Tenika showed up looking very girly in a sea of mostly men and was very excited to take part.  She was especially excited when the lead talkers were taken aside to shoot the calendar cover.  They posed with Chuck Brown for various shots and then for the last session they all gathered around Chuck at a picnic table where he was instructed to pretend that he was talking to them.  Only he started talking to them for real and telling them about his life, his start in music and being in prison.  I remember Tenika front and center, legs crossed, paying close attention.  I remember her holding her own and standing out in the group of mostly men (save for Michelle Blackwell who was then with the What? Band).
I didn't see Tenika a lot over the years, but thanks to social media we were able to stay in touch and I was able to witness her son growing up, the birth of her daughter, her ever-changing style, and her transition to natural hair.  I saw her trials and tribulations, her highs and lows, her growing faith and her optimism.  But best of all, I was able to see her smile.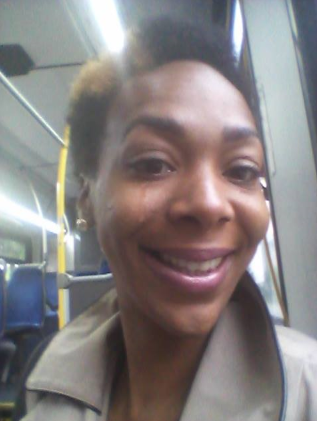 On June 27, Tenika posted a picture on Facebook with the caption,
Dont judge me or Laugh at my Teared up big face! This is what #Pain and #Blessings look!!! I'm so ready for change SCREAMING TO THE TOP OF MY LUNGS, LORD JESUS HELP US PLEASE SHOW ME WHAT'S IN STORE FOR US!!!!! So MANY times I feel like giving up, dissappearing or offing myself BUT THE DEVIL IS A LIAR, I HAVE WORK TO DO—thinking about how blessed I am.
When I saw that picture of her smiling through her tears, I was touched and said a prayer for her.  Now, every time I look at that picture I cry.
---
 GALLERY