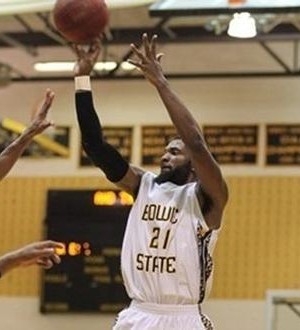 Byron Westmorland had a huge night in leading the Bowie State University Bulldogs to the Central Interscholastic Athletic Association (CIAA) championship.
The senior forward scored a career-high 38 points including 26 points in the second half to outduel Livingstone junior guard Mark Thomas and helped Bowie State break open a tight game for an 85-74 victory over the Livingstone College Blue Bears in the CIAA finals at Time Warner Cable Arena on March 2. The Bulldogs (16-13 overall) won their second CIAA championship in school history, including the first under Head Coach Darrell Brooks, after entering the tournament as the No. 4 Northern Division seed. The latest title comes 10 years and one day after the Bulldogs claimed their first CIAA crown in 2003.
With the victory, the Bulldogs received the conference's automatic bid in the NCAA Division II Tournament. The Blue Bears (22-6 overall) are anticipating an at-large bid after reaching the title game as the No. 6 ranked team in the Atlantic Region. The top eight teams in the region will advance to the tournament.
"I'm so proud of my team, especially my five seniors," Brooks said. "They've worked hard. We've had a lot of adversity this year and all through it, they stuck together and we got a great reward for it."