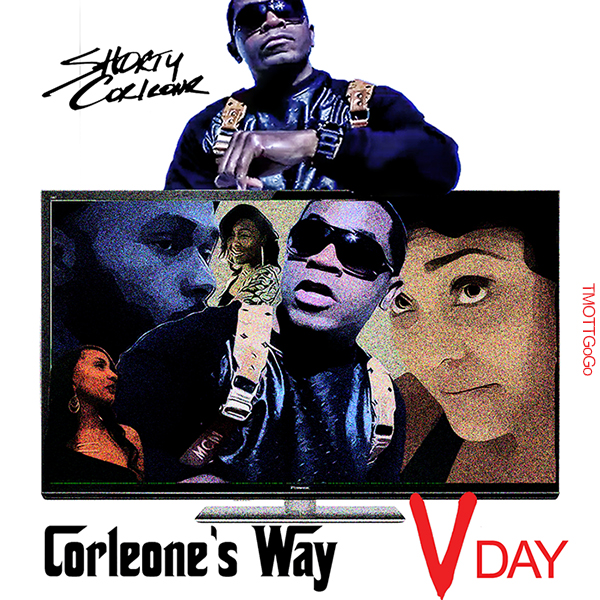 Over the Valentines' weekend, artist Charles "Shorty Corleone" Garris released a string of videos that contained episode teases from his ongoing musical/ dramatic series "Corleone's Way," entitled the "V Day Series."  Wanting to know more about these particular segments, we went to, not only Shorty himself, but also the film's director Caktuz to get a clearer understand as to the relation of these episodes to the entire "Corleone's Way" series as a whole (check out all 4 episodes below).
So here we go….
1). In regards to the V Day series, break down the story lines of each video:
CAKTUZ : Well, the intention of the V Day Video Suite is to give fans a closer glimpse into some of our characters lives. It's a spin off mini series of sorts from Corleone's Way . Each video in the suite unravels bits of Shorty's backstory which well later see how these glimpses make sense in the story arc.
SHORTY : In the Corleone's Way series my character is on tour through out the 1st season.  With V Day we wanted to explore the hints of conflict that being on the road brings to the relationship with my girlfriend on the show, Vina. We left bread crumbs eluding to that in our preview of 1st episode.
Each video represents a backstory with each of my love interests on the show. 'TXT #SEX', costarring Girl Friday,  s one of those wild nights in NY that turn into something more. In 'Keep Ya Boots On' we give you the backstory to the connection with my lawyer on the show, Tatyana. Both of these are steamy affairs that put my character in a love triangle.
We collaborated with Tameka 'Tiny' Harris for a Go Go remix of her single. 'W.T.F.Y.G.D.' produced by one of our production partners, SilleStar. She and T.I. liked what we did with the track, so we decided to use it as the musical montage showing where the arguments and separation begin with Me and Vina.
CAKTUZ : Each incident creates a bond between Shorty and these women. This begins to set the tone of some of our shows elements, such as? suspicion, loyalty, and the chain reaction of events they set into motion.
By the time we get to 'While I'm Alone', we wanted to give another preview episode for fans that have been waiting so diligently for our full season to begin. Of course there are many questions we've left unanswered intentionally, to build our story through the 1st season in a more interactive way.
The culture and music of Corleone's Way is based in Go Go, but various characters have their own alternatives such as Hip Hop, Gospel, Afropunk, or R&B. So we thought why not create miniature series' based around these characters when releasing music projects from the show. They become puzzle pieces for our fans to arrange as you continue watching. These are the bonus extras.
2). With the exception of one video (#3 W.T.F.Y.G.D.), one thing that I notice that seems to be consistent in each video is a woman, but her character really start to become efficient until video #4. This is really what leads me to believe there is a story line connecting all 4 videos. Who is she and what is her connection to the story line?
SHORTY : This is Vina, my girlfriend in the show I'd mentioned before. We can't say how much more about her connection to the story line than that at this time. She definitely plays a pivotal character in the series though.
3). The brother with the son. Who is he and what is his connection to the story?
SHORTY : This characters name is Blizzy, who is also a member of 3DB Band. He is conflicted with his loyalty to the streets and his love for his son. There is a spin off into Blizzy and 3DB's back stories as well coming soon.
CAKTUZ : We see a hint of dissension involving him and Vina. She whispers something in his ear. We'll later find out what that was. Blizzy works for Shorty on the show, so it'll be interesting to,see how this plays out.
4). What is that gogo song that plays at the end of video #4?
SHORTY : That's an unreleased track called 'Do Or Die', that will be available soon.
5). What is '#AMASLife?' (the call letters written on the interviewer's microphone flag in video #1 TXT #SEX)?
CAKTUZ : That's an homage to my company ' AMAS noir '. AMAS is an acronym of me and my cousins initials. But our company mantra is to 'amass' any industry we step into with our product. Whatever that may be, music, art, film, etc. '#AMASLife ' is a hash tag we regularly use on social media when Shorty and I are on the grind.
It's basically the life of what we do, day to day. Artists on the road, businessmen in the boardroom, and big Brothers on the block. We want to inspire others around us by showing them the passion and dedication as well as the work that goes into what we do.
CHECK OUT ALL 4 EPISODES BELOW:
---
---
---
---