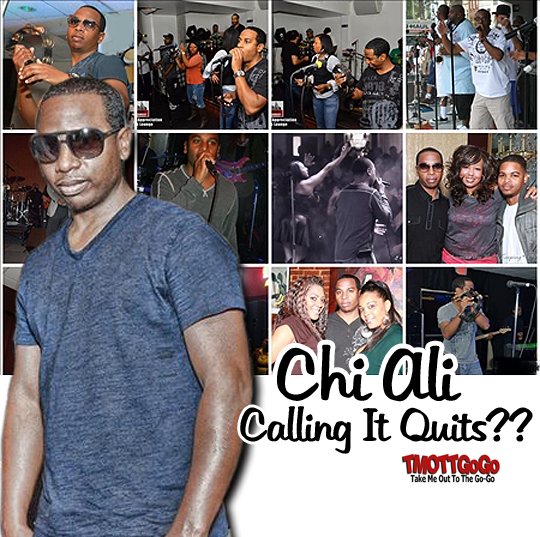 Suttle Thoughts front man Chi-Ali has officially and socially made his announcement via Facebook that he is leaving the game.
He writes:
"I want to personally thank you all for your support over my many years in this game (go-go).  I honestly couldn't have done it without you (the people). This industry has helped me beyond what you could ever imagine.  I can't express the genuine love that I have for you all not as patrons but as friends, family, etc.  I will cherish many memories of this game like performing at The Kennedy Center, meeting Chuck Brown for the first time, finding out that Little Benny & Derrick Homes were my blood relatives, meeting Big G for the first time (now that's one that would be a good script in a movie. Lol ), and talking to Rappa Dude & Buggs on a personal level.  I could go on forever.  However, it comes a time when one must listen to his or her inner self, and my spirit is moving me to other realms.  I hope that you all can respect and honor my departure from Go-Go.  My final show will be @ Club 12 on September 21st, 2013.  I will make appearances from time to time, but performing nightly will not be an option for me.  Come join me & my Suttle Thoughts Family as I say farewell on September 21st, 2013.  One!!!!"
It is no secret here at TMOTTGoGo that the laid back, poetic and aesthetic styled rapper has no doubt made his mark in the Go-Go industry over the past decade.  As a matter of fact, our first encounter with Chi Ali took place around 2002, right around the time that he was playing with S.O.U.L.O and their Go-Go version release of the "Cha-Cha Slide" really took wings and made a powerful impact on the scene (check out audio clip below).
It was after that time that we began following as he grew within the music over the years and stages of groups such as S.O.U.L.O, First Touch, Lissen, and Suttle Thoughts.
One thing about Ali that cannot be argued is that he is a very smart, conscious and in-tuned brother, therefore whatever route he decides the travel as he exits the Go-Go stage, there is no doubt that he will be very successful at it.  Therefore, we wish him nothing but the best in wherever his next chapter takes him.
CHECK OUT THE AUDIO CLIP BELOW:
SOULO (featuring Chi-Ali) Go-Go Slide (Cha-Cha Slide):