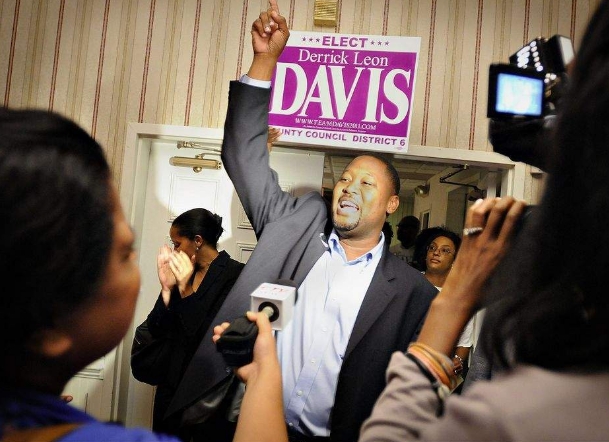 The third time was the charm for Derrick Leon Davis.
With 55 percent of the 6,453 votes cast in Tuesday's special primary election, Davis who failed in his 2002 and 2010 bids for a seat on the Prince George's County Council beat 13 other Democrats to advance to next month's general election to fill the council's vacant District 6 seat.
"If we want to make this good county great, we're going to have to work together," Davis said Tuesday at his election-night party in Largo. "When our communities start to work together … we will rise in Prince George's County."
Davis, 43, of Mitchellville had 3,570 votes, followed by Democrats Arthur Turner of Kettering, who had 1,254 votes, or about 19.4 percent; and Mark Polk of Bowie with 634 votes, or about 9.8 percent, according to the Prince George's County Board of Elections.
Davis will face Day Gardner of Bowie, who ran unopposed in today's Republican primary, on Oct. 18. With an 18-to-1 ratio of Democrats to Republicans in the district, the winner of the Democratic primary usually snags an easy general election victory.
Former councilwoman Leslie E. Johnson (D) of Mitchellville resigned from the District 6 seat in July, after pleading guilty in June to a federal corruption charge. She was elected in November to represent Capitol Heights, District Heights, Forestville, Kettering, Largo, Mitchellville, Upper Marlboro and parts of Bowie.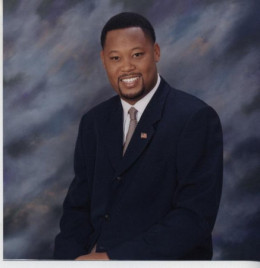 Davis, who worked on early childhood education and Title I programs for the county school system, has told The Gazette he would focus on foreclosures and education issues, such as ensuring small class sizes, if elected to the council.
County Executive Rushern L. Baker III (D), former County Executive Wayne K. Curry, and County Councilman Mel Franklin (D-Dist. 9) endorsed Davis earlier this month. Several state officials also offered their support for Davis, including Del. Dereck E. Davis (D-Dist. 25) of Mitchellville, who is not related to the candidate.
"Derrick is the best candidate for the job," Dereck Davis said Tuesday afternoon in Upper Marlboro. "He has an undying commitment to the citizens of Prince George's County. When he is elected tonight, the citizens will have made the right decision."