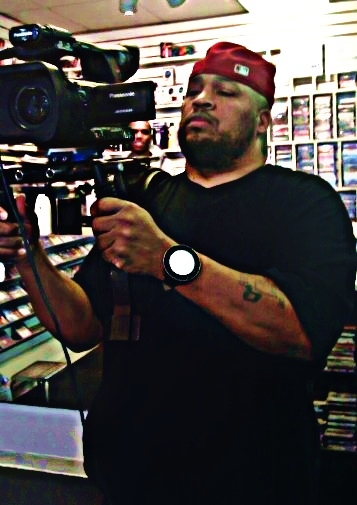 With heavy hearts this morning, we regretfully announce the passing of a close friend and TMOTT family member, Joe Carter, better known to the Go-Go and local Hip-Hop culture as "Big Weaze".   Although exact details of his passing are unknown by us at this present moment, Weaze basically passed out on yesterday, February 4, and although was taken to the hospital, they were unable to revive him.
A very close friend of mine, Weaze and I both came up in the ranks together in this go-go industry, both growing up in Seat Pleasant and working and playing in bands together in the early days.
An original member of TMOTT's WTGO (the very first online go-go radio program), Weaze is mostly noted by his contributions in the film industry.  He is responsible for the filming of music videos for such artist as 32's "Swag's On A Hunnid", Fatal Attraction's "Twilight Zone", "At Your Best" and "Bar 2 The Car",  as well as a giant list of many many more.  Weaze is also the person who filmed the TMOTTGoGo DVD Magazine for us back in 2002, which was the very first magazine to ever be released in DVD format coming out of the DMV area.
Later, Weaze started his own company entitled "Metroboys Entertainment", where he wrote, directed and starred in such films as "A Runner's Dream", "Keep It Gangtas" and "Keep It Gangtas II" (the latter two also starring Polo of TCB).  Along with the films he released, Weaze also ran a weekly cable program called "Metro Video & Film Festival", where he hosted the biggest support and showcase of local artists and their music in the history of that cable network.
One of the most recent things that Weaze had been working on was a soon to be released film entitled "Dead Money", which stars  actor Clifton Powell (of Dead Presidents, Next Friday, & Ray), Anwar 'Big G' Glover (of Backyard & The Wire), and Tray "Poot" Chaney (of The Wire).
Weaze will without a doubt be missed by the TMOTTGoGo family… and especially me.
** FUNERAL ARRANGEMENTS: EBENEZER AME CHURCH 7806 ALLENTOWN RD FT. WASH, MD – Viewing 10am – Svc 11am – Tuesday Feb 12. Repass at Plaza 23 after funeral.
Check out a few samples below of Weaze's work:
Fatal Attraction – At Your Best
——————————–
Fatal Attraction – Twilight Zone
——————————–
TMOTTGoGo DVD Magazine
——————————–
A Runner's Dream
——————————–
Keep It Gangsta
——————————–
Dead Money