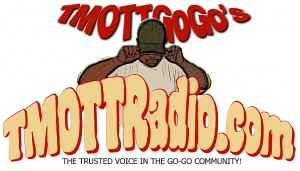 Washington D.C., Maryland & Virginia  Dec. 29, 2011 – It has been announced that TMOTTGoGo, the trusted voice in the go-go community, will be officially launching TMOTT Radio on January 1, 2012.
"It's just a natural progression," said TMOTTGoGo Founder Kato Hammond. "The TMOTTGoGo Radio Show has run through many showcases and platforms for over the past 10 years now, and in that time, we've always talked about starting a fully programmed radio station. Now is the perfect time to do it."
About TMOTT Radio

Listeners have been clamoring for different music, and TMOTT Radio will supply them with many options including Go-Go, Hip-Hop, and R&B. Original music will not only be featured, but a dominant focus — supported by the foundation of go-go music laid over the past 34 years, and listeners can tune in conveniently in their cars and on their smart phones.
TMOTT Radio will showcase entertaining and informative shows, which include Wisdom Speeks DC hosted by Whop Craig & Tony Blunt, De Biz Nest hosted by Dwayne Lee, and the show The Purp Haze Show hosted by Dayo and D Nasty. There is a fourth show on the card, hosted by Teago Ward that will simply be entitled Take Me Out To The Go-Go. The set up for this show is to platform a contest allowing the listeners the opportunity to give it the title it deserves.
Original mixes will be supplied by DJ Supa Dan and Mike Nice – The Washington Wizard.
Access
To listen to TMOTT Radio on your computer simply go to wwww.tmottgogo.com and click "TMOTT RADIO" at the top right of the page. Listeners can further access TMOTTGoGo Radio by downloading the free TMOTTGoGo Mobile App for their Androids, iPhones, iPads, and tablets. With the usage of the proper adapter, listeners can also enjoy it in their cars as an excellent alternative to monotonous mainstream radio stations. Other destinations online and via mobile app where TMOTTGoGo Radio can be accessed are: Tune-In and Shoutcast/Winamp (www.shoutcast.com)
TMOTT Radio looks forward to serving artists and musicians in search of airplay.
Questions and inquiries can be sent to
kato@tmottgogo.com
Or Twitter: @TMOTTGoGo