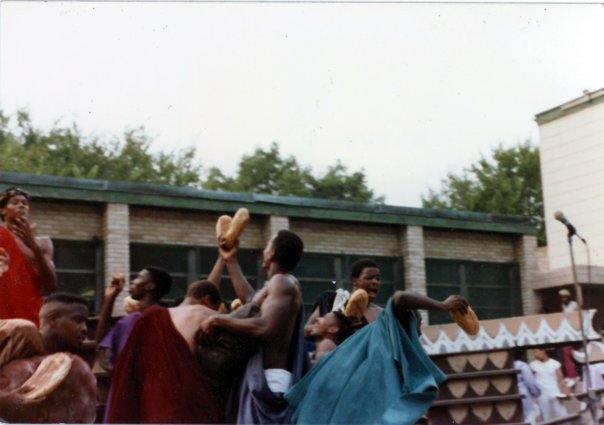 See this picture right here?  It was taken in 1981 during a Street Theatre rehearsal of gospel musical entitled "Spirit Song". This production consisted of an entire cast and crew of about 50 or more teens (mostly students from the Duke Ellington School of the Arts) who were all employees under Mayor Marion Barry's Summer Youth Employment Program (SYEP).  This was because Street Theatre (a Mike Malone Production) was a program under Barry's SYEP. (That's me in the bottom left corner.)
Therefore, our job for that entire summer consisted of rehearsing and putting on this musical production throughout the parks and neighborhoods of Washington, DC.  I was 16 years at the time.  And because of Mayor Marion Barry, we were getting paid for doing a craft that we all loved so much.  In fact, it helped mold us as we went into different areas of our lives continuing in this field.
For example (in the photo above):
Matt Dickens (RIP, standing far left in red) – went on to become a professional dancer and actor and can be seen in episodes of television's "A Different World".
George Dick (looking up in purple) – starred in the Channel 9 series "In Our Lives", and went later went on into producing music.
Tony Terry (in burgundy with his back turned) – went on to become a successful music artist, with hits such as, "When I'm With You",  "Lovey Dovey Feeling", and "She's Fly".
Terrence Riggins (with muscles standing in center) – went on to become a professional, successful actor, starring in movies, such as "What's Love Got To Do With It" and "The Jesse Owens Story".
Chuck Byrd (stooping directly behind Terrence) – went on to become a professional actor, playing in "Good To Go" and other movies, and in television programs, such as "Martin" and "Hangin' With Mr. Cooper".
Sean Hawkins (hovering behind Chuck, with mouth open) – starred in "Buddies" (the play I wrote that was featured Off-Broadway, starring Denzel Washington and Anna-Maria Horsford).
And we ALL worked as teens under the program created for us by Mayor For Life Marion Barry.
Since the passing of Marion Barry yesterday, there is so much that so many people are remembering in the ways that Marion Barry has played a part in the growth of their lives.  Memories that are just coming back. Some that we haven't even thought about in a long time.  And in thinking about these moments, it donned on me.  Just about every single teen from my generation on started working careers under Marion Barry's SYEP.  I honestly didn't know that… or rather, never really thought about it like that.
We would like to know.  Did you start your working career as a teen under Barry's SYEP?  How old were you, and what jobs did you do?