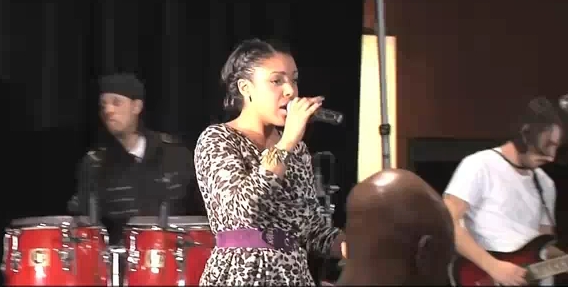 By Nena Brown
Ready to toss my notes, toss my weave and never look back, I wanted to ditch this story.  Per every tongue, every headline, networking site and link to "the footage", the chair and cheap champagne throwing fight dominated the entire 2011 DMV Awards show.  I was almost willing to let a ten minute brawl overshadow hours of cranking performances, well deserved awards and positive actions, not to mention months of planning and years of building. Looking back through the pictures, I began to see through the influx of useless information regarding this event that I have allowed to pour into my mind over the last few days. The excitement, unity, solitude, respect and networking power was unmistakable at this very same event, pictures don't lie.
The last year that I have spent reviewing, purchasing and supporting countless mix tapes, albums and videos was not in vain. Rooting for Go-Go artists turned full time rappers who stuck their chests out successfully in unfamiliar territory was not in vain. Watching budding and seasoned DC Hip Hop artists alike strap up, step out and invest in the culture was not in vain.  The brawl, which we do not condone or mention going forward, was not the beginning or end of the 2011 DMV Awards.
Here are just a few of my highlights from the 2011 DMV Awards on Saturday, March 6, 2011at the Hyatt Crystal City.
Opening prayer and pocket was presented and finely executed by Rev Tony Lee and the Community of Hope Church.
·   This year's host of the DMV Awards was a very familiar face, DC's own actor and comedian Eddie Bryant. Hosting with the experience of a nationally recognized comedian with that much appreciated hometown zest, he did not spare a joke or a jone from Pastor Tony Lee to Ex Washington Redskin Clinton Portis.
·   The first award was presented for Gospel Performer of the Year, winner Y'anna Crawley who has had a strong few years on the entire DMV music circuit, not her first award, certainly not her last.
·   Jeannie Jones one of the DMV's most supportive mentors and media, in a super bad turquoise trench coat and Community Activist Tony Lewis Jr. presented the Go-Go Band of the Year Award to the What? Band.  Unfortunately they were not present to accept their award but you better believe the crowd accepted it for them.
·   Step Aside Make Way for the Pros! Best Club/Dance Track Award went to "Step Aside" by Baltimore's Dew Doo Kidz, notorious for the universal party starters "Pick Em Up" and "Watch Out for the Big Girls".   Another great award swept up by Baltimore was for Billy Lyve, rapper, song writer and promoter, who won the Best Promoter Award.
One of the more difficult categories for me to predict the winner of was the Breakout Artist of the Year Award which went to the excited but modest and fully clothed Fat Trel.  Trel's acceptance speech included a brief account of his plight from resistance to acceptance and ended with the spirited and certain phrase "If I win, we all win."
No matter how hard you try, you're gonna have to jump over the moon to overshadow the electrifying mini concert given by The Villains 21 and Uptown XO.  Their performance of "Feels Good to Be Home" totally rocked the venue and crowd out, energy, guitars, lights and straight crank everywhere.
· DJ Heat's two awards for Most Supportive Media Person and Best Blog/Website was a straight no brainer.  The humble but funny Charlie Sheen quoting radio DJ and her offspring better known as dcmumbosauce.com cultivate an array of DMV artists, music and videos.
·    Another no brainer, the Up and Up Open Mic won the award for Best Open Mic.  I don't know what other open mic night can claim 80 weeks strong but I do know that the same consistency and contagious spirit to elevate claimed the crew two additional awards, Best Album of the Year for "Up and Up Presents Gods'illa" and Best Rap Group-Gods'illa.
·    The attention snatching performance of petite, rambunctious Kasey Williams and Black Alley served as a brief reminder for those with doubts about Black Alley winning the award for Best Live Performance.  How you rock a crowd without breaking a sweat, how you burn 500 calories in ten minutes while still maintaining a great singing voice is beyond my comprehension.
CLICK HERE TO SEE THE ENTIRE WINNERS LIST
————————–

CLICK BELOW TO WATCH VIDEOS BELOW OF SOME OF THE PERFORMANCES:

Find more videos like this on TMOTT CITY
—-