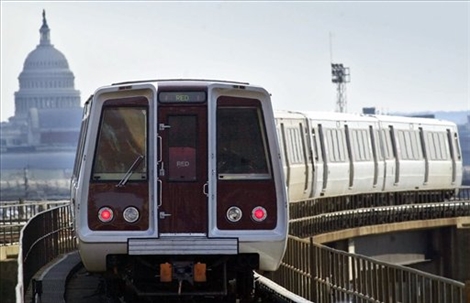 Metro encourages rail, bus use on Dump the Pump Day, June 17
Metro is encouraging Washington-area residents to leave their vehicles home and use public transportation for the fifth annual National Dump the Pump Day, Thursday, June 17.
The day, sponsored by the American Public Transportation Association (APTA), promotes the environmental and economic benefits of using public transportation.
In observation of Dump the Pump Day, Metro is hosting a Guess the Rail Ridership Contest on the Metro Facebook page here. The page provides instructions for participating in the contest, as well as news releases and general information about Metro. The contest winner will receive a SmarTrip card valued at $100. Submissions are being accepted now until midnight on June 17.
According to the latest APTA Transit Savings Report, the average household spends 18 cents of every dollar on transportation, and 94 percent of the cost goes to buying, maintaining and operating cars. The report states that a single-car household saves about $9,000 per year more than a two-car household.
Metro transports about 1.2 million people each weekday on trains and buses.