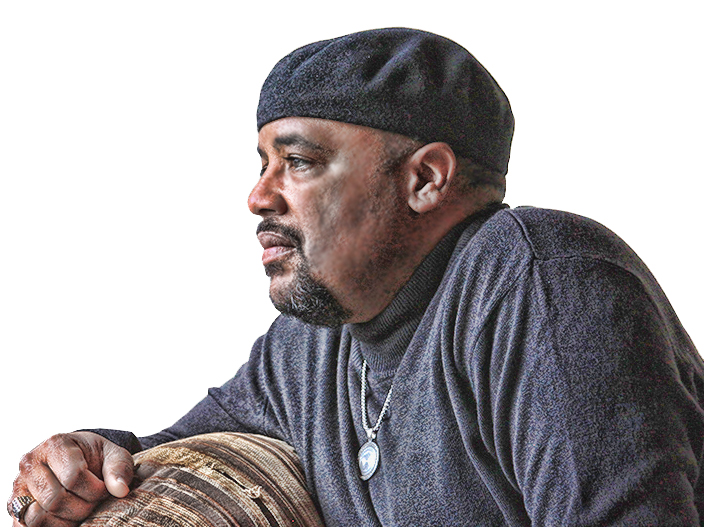 In an era of declining songwriting skills and auto tune crooning, Michael Muse may probably be the most recognized (and mimicked) singing voice in the history of go-go. Since his early days with Rare Essence up until now with his own projects, Muse has always embodied the best traditions of R&B/Soul music as a vocalist, songwriter and producer. His velvet voice is unique and mesmerizing, captivating audiences across the nation.
With the new solo release of his anticipated CD "The Love of You," Muse has gathered all the experiences has encountered over the years into one complete package. And just as anticipated, the superb Falsetto and natural smooth tenor that makes him a true extraordinaire balladeer radiates.
So, without further ado, Ladies and Gentlemen, we bring to you the incredible MICHAEL MUSE.
TMOTTGOGO:

What is your name?
MICHAEL: Michael Darren Muse.
TMOTTGOGO:

Where are you from?
MICHAEL: Originally born in Welch West, VA. Moved to S.E., DC when I was 2 years old, where I was raised.
TMOTTGOGO:

Thanking back to early childhood, what was your first experience with music for the first time like? What song do you remember most as a child?
MICHAEL: The song or songs I remember first hearing and feeling were all those 70's Philly Soul songs by groups like The Stylistics, Delfonics and Blue Magic.
TMOTTGOGO: What made you first realize that you wanted to pursue a career in music?
MICHAEL: Realizing I could actually sing and sound like those Philly Soul songs kept me imagining as a child of one day being in a group and singing alongside friends. I didn't just hear the music. It moved my spirit in a way I could not explain at that time.
TMOTTGOGO:

How old were you when you started getting involved in music?
MICHAEL: I was 15 years old when I finally got the courage to sing in front of a live audience.
TMOTTGOGO:

How did you become involved in the type of music you play now?
MICHAEL: The type of music I sing now is exactly the same stuff that touched my spirit when I was a child. Love songs mostly from the Philly Soul era. After being in Go-Go for so many years and playing 2nd fiddle to different folks in charge I just finally had enough and decided to do it my way.
TMOTTGOGO:

How would you describe your music/art/entertainment for a public audience who may have never seen you before?
MICHAEL: I'd say my sound is very melodic, smooth and haunting. It's like expensive brandy that goes down smooth but will knock you out if you're not careful.
TMOTTGOGO:

Can you me a brief rundown of the experiences that you have had in the music industry (i.e., groups, bands, other projects leading to where 

you are today)?
MICHAEL: A 30+ year tenure with bands in the DC area such as Rare Essence, Lil Benny & The Masters, Proper Utensils, First Touch, DC Bad Boys (which was a group of DC cats who formed a go-go band in Norfolk VA in the late 80's), Familiar Faces, and even sang Gospel for about a year with Patrick Lundy and The Ministers Of Music. Now I am doing it as a solo artist and loving it all over again.
TMOTTGOGO:

What can people expect to see at your live performance?
MICHAEL: My live performance give the audience an artist with superb stage presence, personality and vocal wizardry, along with the tightest musicians
in the area backing me.
TMOTTGOGO:

What do you feel distinguishes "an artist" from just a musician?
MICHAEL: A musician plays music, but an artist creates and becomes music itself.
TMOTTGOGO:

You have been in this go-go music industry damn near since the beginning of it. What are some of the changes that you have noticed over the years?
MICHAEL: The beat has certainly slowed down. Showmanship is lacking and the originality is gone.
TMOTTGOGO:

How do you think you would like to be remembered by everyone when all is said and done?
MICHAEL: Would love hopefully be remembered for having a great voice. But equally as important I'd like to be remembered for being the first person to make the singing position relevant in a go-go band.
TMOTTGOGO:

What do you think makes you and your style unique from other artists?
MICHAEL: I could be wrong but I've been told I'm the only singer in Go-Go whose style was ever mimicked by others. Lots of singers just sing, but I display tons of personality in my performance and delivery.
TMOTTGOGO:

Art & Music has an impact on both young and old. Everyone loves a celebrity, so what advice do you have for the youth of today?
MICHAEL: I think the greatest thing anyone can tell a young person is to trust in God and treat people the way you'd like to be treated at all times. No matter what. It's just that simple.
TMOTTGOGO:

If you had only five minutes on earth to perform one song that could leave a great impact on the world today, what song would you perform and why did you choose this particular piece?
MICHAEL: "Love Is The Answer" by England Dan & John Ford Coley. The answer to why I'd choose this song is in the title? It's a beautiful song.
TMOTTGOGO:

Just for fun… finish the sentences!
Without Music… I'd be empty inside.
Music is… part of my spiritual being.
Music makes me… feel eternal.
I write songs to… try and stir up positive feelings in people so that they may feel eternal as well.
Thank you kindly!!
-KH