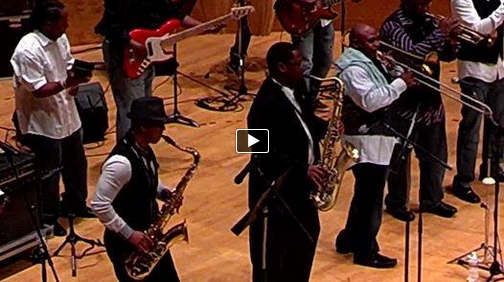 Council Members Will Campos and Derek Davis sharing the stage in honoring the Godfather of Go-Go Chuck Brown with his go-go rendition of "Harlem Nocturne", while benefiting the FAME kids at the Bridging The Musical Spectrum 2013, which took place at Clarice Smith Performing Arts Center.
Other artists of the band include: Stanley Cooper, Leon Rawlings, Douglas Crowley, Jamal Orr, Derek "Redfootz" Freeman, Kym Clarke, Frank "Scooby" Marshall, Brent Birckhead, Marlon (trumpet), Mike Burney, and Rallo.
Proceeds from the concert will support FAME's after school and scholarship programs. This performance is supported in part by the Washington Redskins, M-NCPPC Arts and Cultural Heritage Division, The Washington Informer, The Gazette and the Prince George's County Maryland Council.
CHECK OUT THE VIDEO CLIP BELOW:
Video clip property of Sylvia Turner Brown