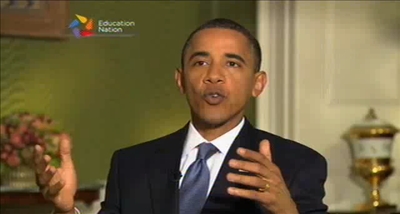 President Barack Obama may have ruffled a few feathers when he answered a question on NBC's "Today Show" about why he did not send his daughters to DC Public Schools, a place where he lives.
FLORIDA WOMAN QUESTION:
"I wanted to know whether or not you think that Malia and Sasha would get the same high quality rigorous education in a D.C. public school as compared to their very elite private academy they're attending now."
PRESIDENT OBAMA ANSWER:
"I'll be blunt with you. The answer is 'no' right now. The D.C. public schools are struggling. They have made important strides to move in the direction of reform."
In fact, the last American President who's child attended a DC public school was President Jimmy Carter.
The Obama girls currently attend the prestigious Sidwell Friends School, where tuition is $31,000 this year, which of course is a totally different situation from many urban public schools.
DCPS released the following statement: "We appreciate that the President recognizes the important steps to reform that have been taken at D.C. Public Schools. We are proud of the growth our students have shown during the last three years of reform, and that growth – and the reforms – will continue until D.C. has the world class public education system that the District's children deserve."
WATCH VIDEO CLIP BELOW:
MAKE YOUR COMMENT VIA FACEBOOK BELOW: