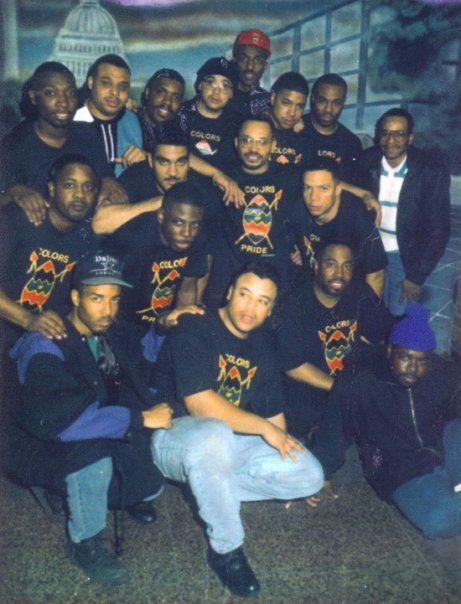 20 years ago, a new band stepped out of the woodshed.  And with a little help that served as a little push from a local radio deejay, they blew up on the go-go scene with the quickness.  The name of the band:  Proper Utensils.
This project was the result of a merge consisting of former members from for already established bands, Rare Essence, Little Benny and The Masters, AM/FM, and Hot Cold Sweat.  And although this was the second coming of James Funk's Proper Utensils brand, the members were all different this go round.  They consisted of: James Funk, Little Benny, Mike Hughes, Michael Muse, Roy Battle, Jauque Johnson, Bryan Mills, Jock Vaughn, Jimmy Jam, Scott, Bojack Butler, and myself Kato Hammond.  Each member bringing their band's unique flavor into a one collective sound, and a bang on the scene that caught everybody by surprise.  In fact, when people first heard it for the very time, a lot of them originally thought that it was Little Benny and The Masters.  This was mainly because of Benny's strong presence throughout the song.  And although the song was not and original, the stamp and vamp they put on it, made it theirs.
The song that I am referring to was the  Teddy Riley/Wrecks-N-Effects "Rumpshaker".  As the story goes, we were playing at the Down Under Club in NW DC.  Among a long string of songs played that night, one of the songs was "Rumpshaker".  A live taping of this show was recorded and then given to DJ Gary L Drew, who at the time also worked as a mix deejay for the local radio station 93.9 WKYS.  And on the night of New Years Eve 1992, Drew slipped in a tiny piece of this recording during his power mix hour.  The area of the recording that was playing when Drew slipped it in?  Rumpshaker.
One week later, during band practice session, Drew came into our rehearsal and sat and talked with us.  He first informed us what he had done on New Years Eve, and then he ran down exact what had followed.
Immediately after the tiny section of the band's live recording aired over the radio waves, KYS began receiving a heavier than usual amount of phone calls to the station.  As Drew explained it, when a radio station is receiving heavy calling like that, it means one of two things: Either another station is running a contest and people are calling the wrong station; or people are so excited about the song that want to hear it again and again.  Luckily for us, it was the latter.
Drew went on to explain that although based on that revelation the station immediately added that section of the recording into their rotation platlist, there was a still a dilemma.  When a radio station adds a song into rotation, that song has to either already be available for consumers to purchase in record stores, or soon to be released in record stores.  If this turns out to not be the case, the station pulls the song from its rotation playlist.
This in turned favorably forced Funk's hand to go ahead and take the band into the studio and cut a tighter much crisper version.  Hence the birth of GO-GO RUMPSHAKER!
TAKE A LISTEN TO THE SONG BELOW: