Nena
Brown
Writer
View all of Nena's Articles
.
.
——————————————————————–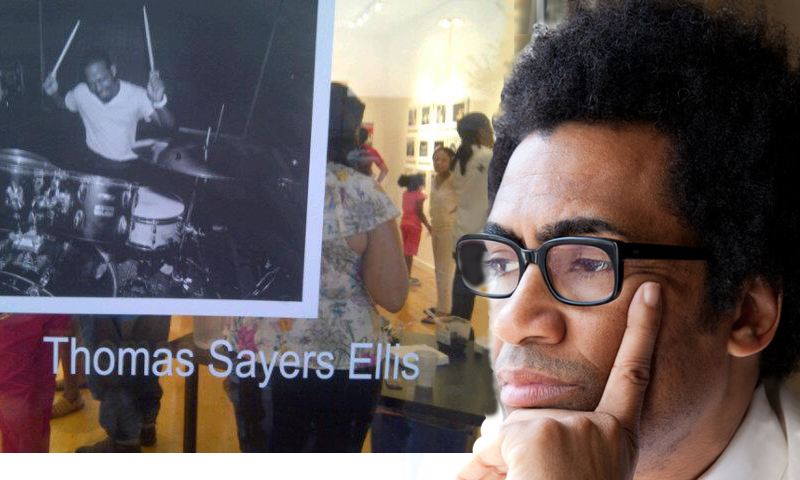 Posted up on MLK avenue SE, sipping pinot grigio out of a plastic cup, I put my pinky up in celebration of the fancy, bright and artsy atmosphere inside the Gallery of Vivid Solutions. Welcome to the unveiling of (Un)Lock It:  the Percussive People in the Go-Go Pocket by Thomas Sayers Ellis, a collection of Go-Go related photographs, related paraphernalia and posters.   They say a picture is worth a thousand words; how do you begin to translate a phenomenal exhibit of sporadic, tasteful, but candid photographs spanning years of events, comes, gos, ups and downs in the Go-Go community?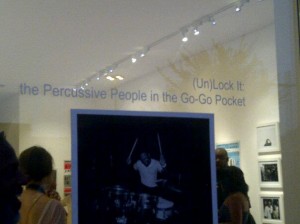 Quietly but intensely, I observed the diverse crowd of artists, musicians, journalists, socialites, band members- all fans of something or someone posted on these walls.  I watched carefully as  Go-Go artists came in and grazed the Roll Call Wall for pictures of them or those close to them.  In true Go-Go fashion, I listened to Big Brother CJ meet and greet, while Darrin X affectionately joned on his perm; I listened to a white guy, Corporate America in appearance but Go-Go historian in emotion, discuss Da Mixx and the latest happenings of Rare Essence.  I tuned into E aka Bootsy Vegas, Moe Shorter and Derrick Curry discuss the closing of Globe Posters earlier this year. I laughed as Moe reminisced on a phone call from Thomas Sayers Ellis that required him to show up on Howard Road to be photographed. Sayers with buckets and bright Ideas, Moe with curiosity on what the back drop could possibly be. We were all here united, celebrating his eye for the unexpected, his poise for the non pose.  "He's the Go-Go Lando of photos" boasted X, describing Thomas Sayers Ellis, who was being prodded, congratulated and photographed instead of photographing for a change.
I slow walked the exhibit and took in photos of the cardboard cut out Polo on stage at DC Star and the viral photo of the cutest little girl with afro-puffs posing in front of a large Lil Benny poster. I nodded in remembrance of E aka Bootsy Vegas' favorite photo of Mental Attraction drummer Bam or the photo of Daryl Spencer, both who we just recently lost.  I took in sights of Globe posters broadcasting $10 shows at Cheriys, the Panorama Room and Derrick Curry's favorite photo of Funk and Tricky Rick.  I roamed the room and gazed at too many shows to name, too many names to name.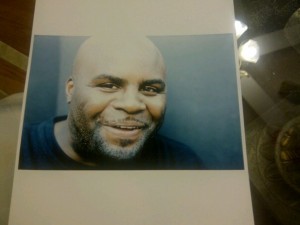 Finally, in the back of the room, I came upon the Roll Call Wall where the instructions are clear: if you see a picture of yourself on the Roll Call Wall you can remove it and keep it.  Slowly strolling, staring and studying the wall like an enemy target, I was prepared to pounce on any picture at any given moment.  Sure, they're not all photos of me but aren't all the pictures on this wall expected to be taken?
My first instinct was to steal a picture of an outside event, sun shining Ivi and Charlie standing alongside a brightly smiling Polo, TCB chain hanging from his neck.   My next idea of a steal was Chuck Brown and DFloyd dressed in all white embracing at what I believe to be Lil Benny's funeral.  Or what about the 11×14 black and white of Buggs, clear but thoughtful expression on his face, sitting casually in a chair with his show shirt draped across his lap.  Billy the Kid famously stripped down to his drawers on stage. KK in her signature colorful yawn twists eyes closed, vibin in a zone.  Overwhelmed by photos of DJ Rico, Lil Benny Way, T-Bob, Sauce, Supa Coop i didn't know what to steal so instead I stole nothing. Like Moe Shorter, i resisted my urge to take pictures away from the exhibit because i wanted others to get the chance to see and experience them.  Like a true Go-Go head, looking around I could remember the whens or at least the wheres of a lot of these photographs, maybe I was even there.
I don't know if this is 1000 words and even still, there is nothing better than taking a few minutes and going to experience the exhibit for yourself.  The photographers, promoters, videographers, managers, even the artists come and go, but Sayers is definitely one of our own.  The (Un)Lock It exhibit will be in place until October 7th and it is the real deal.
~ Nena Brown
* Photos by Tahira Chloe Mahdi