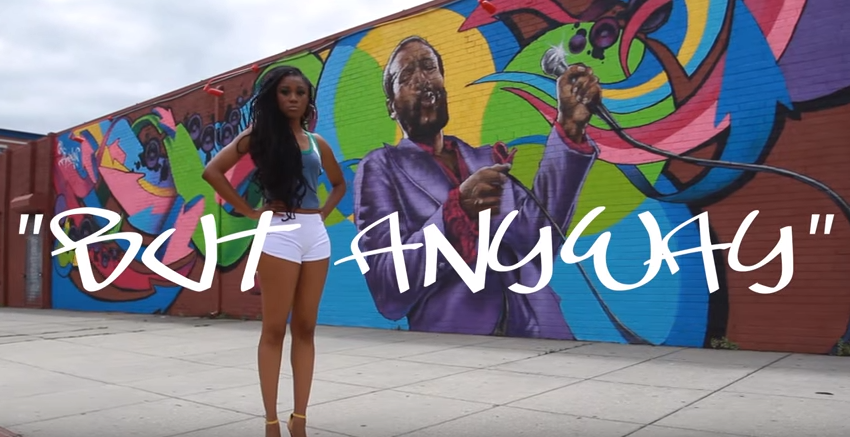 DC Hip Hop Artist Tarica June premieres music video for the politically inspired single "But Anyway," created over a patchwork of old school tracks utilizing the nostalgia of songs by Suzanne Vega, Eric B. & Rakim, and P.M. Dawn, cleverly illustrating the pangs of a city in deep socioeconomic flux.
It's no secret that the presence of the female emcee in the landscape of mainstream hip-hop culture is severely underrepresented. A culture that seems to undervalue the non-conforming female voice unwilling to bend to trends and commercial viability. But Washington, DC based hip hop artist Tarica June has a unique and celebrated skill set that undoubtedly gives her quite the edge on the competition, male and female. Her dossier flaunts high praises from the likes of seminal hip-hop artist Chuck D (Public Enemy) and upcoming collaborations with hip hop artist M-1 (Dead Prez). With an effortless flow that sits haughtily at the nexus of diverse influences such as Sonia Sanchez, Yasiin Bey, and T.I., it's easy to see why media outlets called her debut "one of the most important projects in recent Hip Hop memory." And with her upcoming EP Stream of Consciousness and full-length debut on the horizon, the rapper and Howard Law School graduate is destined to shatter stereotypes and transcend categorization in one fell swoop.
To satiate fans eagerly awaiting her follow up, Tarica releases "But Anyway," a thoughtful and refreshingly honest take on DC's current wave of gentrification. Over a patchwork old school track that utilizes the nostalgia of songs by Suzanne Vega, Eric B. & Rakim, and P.M. Dawn, "But Anyway" cleverly illustrates the pangs of a city in deep socioeconomic flux. The video, Tarica June's directorial debut, is a colorful and celebratory collage of shots on the streets of her hometown that serves a dual purpose.
"Everybody knows that DC was the site of a crack epidemic. I definitely witnessed that growing up, so I won't discount that. But there was also was a very potent sense of community here."
The searing track "But Anyway" prompted an invite to perform for the delegation of the United Nationas Human Rights Council in early 2016. Her upcoming Stream Of Consciousness EP offers listeners an even more intimate peek into the mind of Tarica June with subtle hints about her forthcoming album. The city's seismic cultural transition and shifting landscape caused Tarica to reflect on how to best preserve the memory of the city she calls home. Traveling in the same vein, another EP track "Four Unit (My Life)" finds Tarica discusses the pangs of an artist struggling to exist in a city with a soaring cost of living. The track "Uncompromised" is formulated as a push-back on the oft pedaled, well meaning, yet maligned advice that every female emcee likely knows all too well. The pulsing "S.O.C. (Cray)" is a trippy trap laden excursion where Tarica June rhythmically elaborates on her unique musical perspective. "The Cover Up" fashions a thought provoking commentary on how readily society constructs facades in the age of social media – in effect making us less social while normalizing a contrived existence via artificial intelligence. With her guitar and her experiences as her mediums of choice, Tarica June aims to paint an unbridled lyrical portrait steered by authentic sound and vision. At this point in her career, she is well aware of the boxes that categorize her. As an emcee, a conscious rapper, and a female artist.
More About Tarica June:
Raised in the nation's capital, Tarica June was reared under the musical influence of her father, a jazz aficionado, her mother, who played Bob Marley daily, and her generation's chosen mode of fearless expression: hip hop. Away from home in high school, Tarica June was exposed to a new musical vernacular as she found her hip hop heroes juxtaposed with the music of her dorm mates in the form of Tracy Chapman, Grateful Dead, and U2. She began to further expand on her musical tastes in college. Yet unbeknownst to her classmates, she was simultaneously honing a nascent talent that she'd kept hidden for years.
Upon graduation, Tarica June relocated back to DC where she found a burgeoning community of Black artists in the midst of a renaissance aptly dubbed The Movement. After one of these musicians used a song that she had written without crediting her, Tarica June decided to attend law school. "I figured that as a creative person I should learn my rights because I saw how easy it is to get taken advantage of if you don't know the law" she explains. She enrolled at Howard University School of Law, where she focused on intellectual property.
While in law school she continued to work on her music, and in 2010 Tarica June bowed with the release of her bold debut mixtape Moonlight Revolution. Waxing poetic over a diverse array of instrumentals from top 40 hits by artists such as Common, 50 Cent, and U2, Moonlight Revolution finds Tarica June firmly establishing herself as a formidable solo artist wielding her dynamic lyrical torch to illuminate a bleak space. Embroidered with nods and references to lauded writer Ntozake Shange as well as trailblazing recording artists Joni Mitchell and Tracy Chapman, Moonlight Revolution was a bold proclamation of fortitude from agile mind of a new, independent, Black female hip-hop artist.
Moonlight Revolution struck a chord, putting Tarica June on the radar of various media outlets and festival organizers. Respected website Soul Bounce featured the album in their Bounce-Worthy section, calling Tarica "young, fresh and talented." HipHopDX wrote an exhilarating, heartfelt 1,700 word editorial in response to Moonlight Revolution, calling it "the logical manifestations of a free mind" and "one of the most important projects in recent Hip Hop memory."
CHECK OUT THE VIDEO CLIP BELOW: