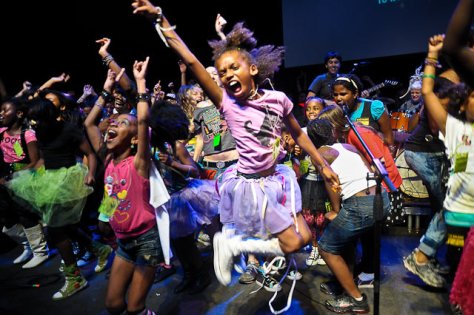 (Jeff Martin // www.jeffreydmartin.com)
DCist.com: This was no piano recital. The energy outside the 9:30 Club on Saturday morning made that clear. As the crowd grew down the block waiting for the doors to open, some of the bands and camp counselors were gathered at the rear entrance, standing on the back of a U-Haul truck, posing for pictures and filing inside in pure rock-and-roll style. This was also unlike any summer camp most of us have ever dreamed of.
"Have your I.D.'s ready," a 9:30 staffer announced at the door. "This is a regular show."
As the house quickly filled with the friends and families of the 71 girls ready to get down and rock out, the energy was undeniable. Posters hanging from the balcony provided a pep-rally atmosphere and a reminder of air-guitar solos, hair-dryer microphones on bedroom rugs, and dreams of one day playing on the same stage as our rock heroes.
The girls were nervous, excited, naturals, out of their element, and a little stage-struck, many never having touched their instruments just a week before. With the guidance and inspiration of the Girls Rock! DC camp counselors, eleven bands and three DJ crews formed, wrote, and arranged their own original songs while learning to play their instruments in the space of just one week. Individual talents were highlighted as the group dynamics were showcased. The stage was no place for competition between bandmates, and fellow bands offered support and encouragement from the crowd.
As a final thank-you, everyone gathered together on stage for the camp theme song. Glitter and flowers fell from faces and hands onto lace-up Chucks and pink tulle, and electric smiles gleamed from every single face on stage.
READ ENTIRE ARTICLE & SEE ALL THE IMAGES HERE