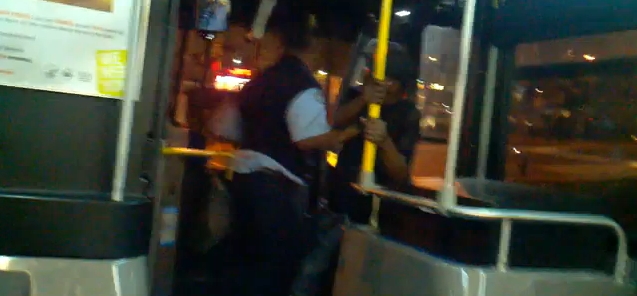 On Friday, City Paper reported that Metro officials have identified the Metrobus driver who was filmed shoving a passenger from his bus in a video that surfaced last week. Metro isn't releasing the driver's name, and it's unclear whether criminal charges have been filed against him.
What we do now know is the identity of the witness who filmed the incident on the U-5 to Lincoln Heights, and City Paper has her account of what happened:
On August 31, 2011 at approximately 2031 hours while riding the U-5 bus en route to Lincoln Heights, a male patron boarded in the area of Minnesota Avenue, N.E. being loud and boisterous. C1 stated that the patron appeared to be under the influence of an unknown substance (either narcotics or alcohol) and unsteady on his feet. While boarding the bus, the patron stumbled and fell onto a female patron that was seated and also fell on top of that patrons 2 year old child. The female patron became angry and pushed him off of the child at which point he fell to the floor of the bus. He was then assisted to a seat by a patron exiting the bus. While seated, he became involved in a verbal altercation with several other patrons. The patron stood up next to the bus operator and began to threaten him unprovoked. C1 stated that the bus operator ignored the patron initially however the threats continued. She stated that the bus operator became frustrated and pulled the bus over to confront the patron and demanded that he exit the bus. This is the point in which she began to film the incident with her cell phone.
SEE VIDEO CLIP BELOW: