Nena
Brown
Writer
View all of Nena's Articles
.
.
——————————————————————–
9:30 Club ~ FlyCandy Media ~ Black Alley Band ~ Noel Gourdin ~ Kindred the Family Soul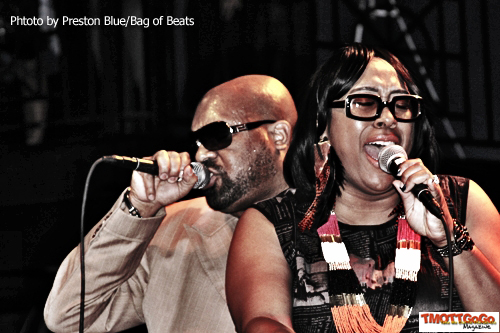 It's Sunday night at the 930 Club and Black Alley is onstage explaining, exploring and instilling the soul garage movement into the crowd.  An invitation accepted, the crowd is hype, as the first lady of Black Alley has invited everyone to rock out with the band. From the Katy Perry/Kanye West hit "Supernatural", through "Square Biz" and the "Conga", they finish up with a smooth combination of Keri Hilson's "Pretty Girl Rock" and Wale's "Pretty Girls." (Clip below is of Black Alley performing "Pretty Girl Rock").



The authentic sounding Noel Gourdin comes on next backed by the Black Alley Band and his tracks.  Clearly what you get on record is what you get on stage as his voice did not waver as he entertained the crowd.  Opening with "Whenever You're Around", he follows up with a smooth ballad in which he strips his blazer and gyrates the mic stand on his knees in falsetto for a few minutes.  Singing a few old school hits dedicated to Black Music Month courtesy of Otis Redding, Al Green and The Temptations, he finishes up with his hit "Beautiful".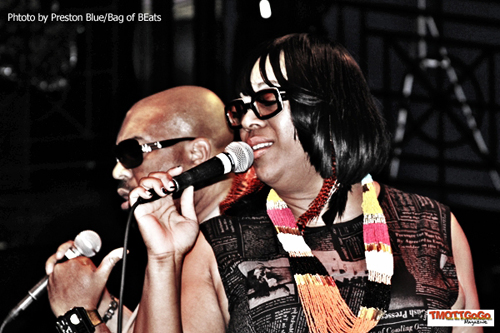 From the moment Kindred the Family Soul took the stage, the crowd chanted "STARS! STARS! STARS!" as if the couple had only one hit to perform.  Backed by a small band, the duo showed love to the crowd and introduced "Magic Happens", an up tempo song from their upcoming album "Love Has No Recession".  The husband and wife/partners in crime bounced, hugged, soul clapped, gyrated and church stomped through their hits "Where Would I Be", "House of Love", "Far Away" and yes, they gave the crowd "Stars".  The energy was felt throughout the place as Aja served as the hype man for her husband as he belted out a tune or two;  Fatin served as an admirer of Aja, sitting on the sidelines camera phoning his wife while she sang "Woman First". Clearly the chemistry of the amazingly talented couple inspired the crowd as the 930 Club was full of hand dancing, starry eyed couples.  After covering "Diamond in the Back" the couple brought out another one of Philly's amazing talents, Lady Alma who wowed the crowd acapella with no mic, as she soulfully poured into the crowd "be thankful for what you got".  The show ended with a meet and greet and listening session for Kindred's new album which features our Godfather, Chuck Brown and DC's own Raheem Devaughn.

Check out clip below of Kindred Family Soul/Chuck Brown/DJ Kool "Going To The Go-Go"


.