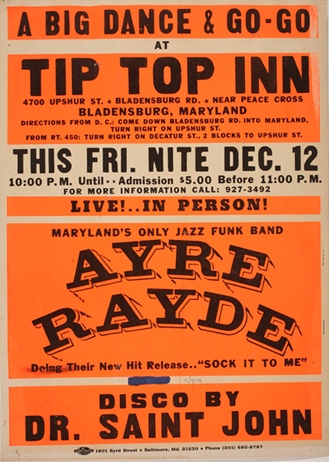 There is no way you could have grown up in the city and not have seen these colorful displays posted up in just around.  They are just as much a staple in the history and culture of Go-Go as the Howard Theater, Northwest Gardens or Metro Club.
PRESSED FOR TIME
By Lee Gardner – Baltimore City Paper
Like the Miehles, Globe Poster is an anachronism. Throughout much of the mid-20th century, bold, colorful Globe posters bombed the walls and lampposts of American cities large and small, advertising circuses, carnivals, auto races, and appearances by touring musicians. By the time Cicero began working full time in his father's shop in the 1960s, television had begun to supplant such live entertainment, but Globe retained a faithful clientele highlighted by constantly touring R&B stars such as James Brown, Solomon Burke, and Ike and Tina Turner. Globe kept churning out its distinctive designs into the hip-hop era, though cheap four-color reproduction flourished and cities began passing ordinances against posters.
Letterpress printing, as practiced by Globe in its heyday, found the Ciceros and their staff assembling the plates for their print jobs out of racks of wooden type, often hand-fashioned, and images contained on etched zinc plates known as "cuts" or on hand-carved wooden blocks. The printers then hand-fed the blank posters into the clanking machinery, which would press the inked plate onto each sheet, leaving behind not only each ink color, but also the literal impression of the type and images. Though more sophisticated, it is essentially the same technology that Johannes Gutenberg used to create the first printed books in the 15th century.
Globe shut down its letterpresses in the late 1980s in favor of cheaper, simpler offset printing, but the Ciceros hung onto much of the old letterpress stuff, including hundreds of drawers full of wooden type, thousands of wooden print blocks and metal "cuts" (from trays full of hand-carved variations of the and live! to original renderings of steady customers such as the Godfather of Soul), and many intact printing plates. In fact, Globe looks more like a disorganized warehouse than a working shop during a recent visit. But then it hasn't been a working shop for a while. In July 2010, Bob Cicero and his brother Frank effectively closed Globe for business.