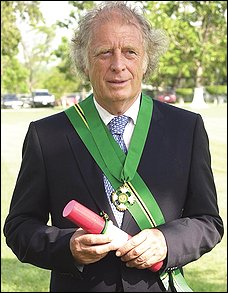 Chris Blackwell, the founder of Island Records, who is also given credit for turning the planet onto Reggae music by helping launch the careers of Bob Marley and Jimmy Cliff, as well as U2, Grace Jones, Roxy Music, and Nick Drake, is also the same Chris Blackwell who is responsible for the 1986 go-go movie entited "Good to Go".
Recently, Chris sat down with the Washington Post and gave his explaination on why he feels that Go-Go Music never took off nationally quite like the way Reggae has.
WP: When did you first encounter go-go music?
Chris Blackwell: I would guess about 1982 or 1983. I was coming back to my hotel late at night in New York and I heard on my radio a Chuck Brown song. . . . That was the first track I heard, and this was before you could program drums, before there were drum machines. And the drum patterns were unbelievable. I thought, "This couldn't have been made by a human."
That first track really lured me into it. I tried to track him down and eventually ended up with [artist and TEDD label founder] Maxx Kidd. Somehow either Maxx Kidd owned the track . . . or . . . I can't quite remember. But I decided to go down to D.C. one weekend. About five of us went down to a basketball-sized stadium and it was packed with about 6,000 people. Absolutely packed!
And not one of the bands had I ever heard of. But Redds & the Boys were on. Trouble Funk, maybe. Another one, Rare Essence? I'm not sure if they were on. . . . What was so incredibly exciting to me was that [go-go] was somewhere between Jamaica and Lagos. It was very African in the fact that it was unstructured – songs that would go on for a very long time in a trance-like way.
WP: The go-go scene is still thriving here in Washington, but many still wonder why it never broke nationally. As a label mogul who tried to help it break out nationally, why do you think it's never happened?
Chris Blackwell: It wasn't song-orientated. The grooves are really why it's so great. . . . James Brown had great grooves but he also had really strong sorts of songs with hooks.