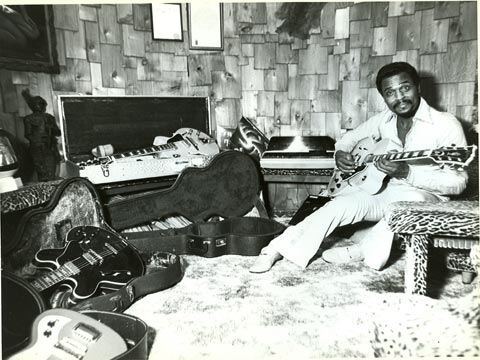 The name Chuck Brown might not mean a whole lot to people outside the Washington DC area, and that would be their lost. In DC, Brown is widely known, even revered, as The Godfather of Go-Go.
Born in August of 1936, Charles Lewis Brown, affectionally known as Chuck Brown, was born to the late Lila Louis Brown and Albert Lewis Moody in Gaston, North Carolina. Although he grew up very poor, Chuck was a spiritual of joy. At age 7, he learned to play piano in church. From ages 11 to 13, Chuck was a preacher.  In addition, he made money selling newspapers, shinning shoes, and digging ditches. At age 17, he joined the United States Marines for a short time. As a young adult, Chuck was incarcerated for petty crimes. He spent approximately 8 years in the Lorton reformatory in Lorton, Virginia, outside of Washington DC. At Lorton, Chuck earned his high school diploma and bought his first guitar.  He was self taught in addition with lessons from accomplished guitar players who had performed with Count Basie.
In the early 1960's, Chuck played with Jerry Butler and the Earls of Rhythm. In 1965, he joined the group Los Latinos, a band that played Top 40 music with a Latin flavor.
After joining the group, Chuck returned to Lorton Reformatory every year for the next 15 years to perform for the inmates.
In 1966, Chuck formed his own band, The Soul Searchers, which played Top 40 music.  In the 1970's, he began to develop his signature Go-Go Music.  Chuck brought togeter Funk, Latin, Jazz, Call and Response, and a continues drum beat to create the unique percussion driven sound.  He also wrote transitions between songs, so that the music was non-stop in his concerts.
His first hit, "We The People" was released in 1971. In 1978, Chuck recorded the top charting hit "Bustin Loose".
In 1984, he released "We Need Some Money" and in 1986, he released "Go-Go Swing", which sparked an international following for Go-Go music.
Several other bands formed and followed in his footsteps, such as Trouble Funk, Experience Unlimited, Rare Essence, The Junkyard Band, Little Benny and the Masters, and many others.  And they too have taken Go-Go music across international waters.
In 1992, Chuck connected with the late singer Eva Cassidy and record "The Other Side", which is a critically acclaimed album of Jazz and Blues duets.
In 2001, Chuck's album "Your Game Live at the 930 Club" was voted one of the Top 10 Albums of the year by Billboard's R&B Editor.
In 2002, Brown released "Put Your Hands Up" a DVD of live performances.  The best of Chuck Brown was released in 2005.
And in 2007, Brown released "We're About The Business".
During his musical career, Chuck has received numerous accolated, including the National Endowment for the Arts Lifetime Heritage Fellowship Award in 2005.
In 2006, Chuck performed at the Rock & Roll Hall of Fame as a tribute to Funk music.  In 2009, Washington DC named a street after him called Chuck Brown Way.
In 2010, Chuck was nominated for his first Grammy Award for best R&B performance by a Duo or Group.
During Chuck's life long career, he has been written about in several newspapers and has been interviewed publicly throughout the DC metropolitan area.  He also appeared in many television advertisements, as well as the DC Lottery's Rolling Cash 5 ad campaign, in which he was featured in front of various DC city landmarks, such as Ben's Chili Bowl.
On May 16, 2012, Chuck Brown died from complications and multi organ failure.  He is survived by his wife and children, other family members, friends and collegues.
Chuck Brown lived a full life, and has left a legacy of Go-Go Music for all to cherish.
Rest In Peace, Mr. Charles Lewis "Chuck" Brown – A Go-Go Legend!
by GoGo Michelle