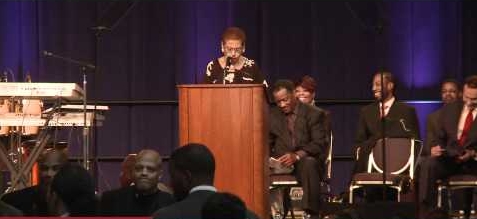 The "Godfather of Go-Go,"  is the subject of a new resolution that would designate his birthday, Aug. 22, as "Chuck Brown Day."
Congresswoman Eleanor Holmes Norton, who introduced the resolution, spoke on it at Browns' public memorial service yesterday.
"Chuck Brown's funky go-go beat gave hometown D.C. its own distinctive sound, and helped the world see that the District is more than just a government town. He was truly one of us — he played a concert in the hot summer sun at the Capitol a few years ago to support our fight for statehood and voting rights," said Norton. "Chuck gave the District and the nation the gift of go-go, whose lasting beat spans generations.

Also heard at the memorial was Mayor Vince Gray announcing that D.C. would be taking concrete steps to remember the Godfather of Go-Go: it would name a D.C. park after him.
"It'll be a place where there's action, where there's people, where there's traffic…a place where we can look forward to bustin' loose," said Gray during remarks.
And D.C. Council Chair Kwame Brown upped Norton's ante in his own speech: saying that there should be a Go-Go Hall of Fame in D.C. "Got a park. Got a day. I think it's only fitting and right that we do all we can to create a Go-Go Hall of Fame," he said.
Hmmmm… okay.  We shall see.  At any rate, let's make sure that we hold them to that.