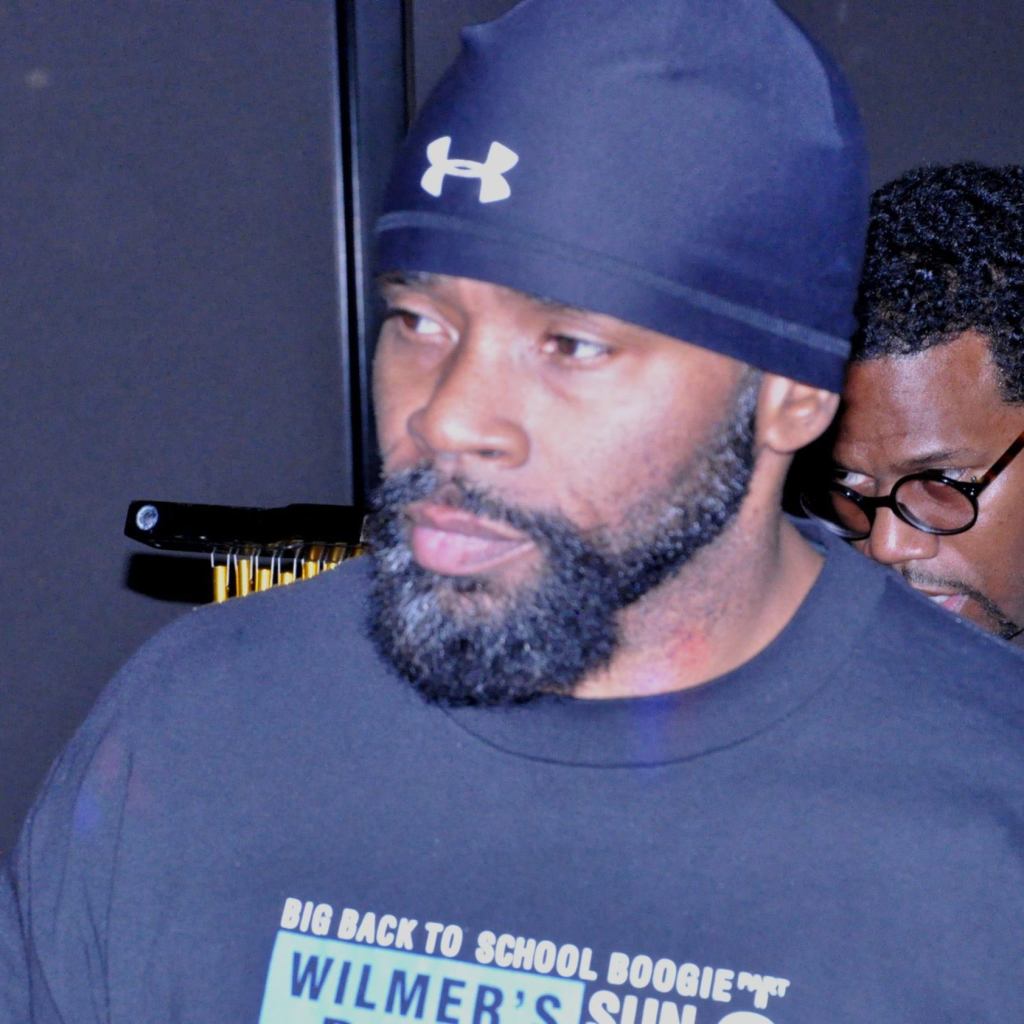 Now here is guy who's been stomping on stages so long he's literally got Go-Go roots embedded in boots.  His history goes back to practically to the beginning. He has been seen throughout the decades blowing on the stages of such bands as EU, Little Benny and The Masters, and Familiar Faces. You can see him on the "Go-Go Live at the Capital Center" video hard stepping to "Cat In The Hat" with the stage of Little Benny and The Masters. He's in the "Shake Your Thing" video rocking with Salt N Pepa.  He's in the Spike Lee's School Daze video "Da Butt", groovin with EU.  As well as others, such as "I Confess" and "Taste Of Your Love".  And to this day, he can still be seen actively on the stage with Let It Flow band... trombone still in his hand.
But who is this mysterious guy who's been dancing so wickedly on stages for the past 3 decades that he's been given the nickname of "Hard Step Mike"?
Mike Taylor.  Trombone player.  That's who.  Also known as one of the most humbling people to have ever graced the platforms of this Go-Go music culture. Because truth be told, if you weren't there to witness it, and you didn't ask him about it, you probably would never know the amount of notches that he has on his belt.  When it comes to real "Gs" and true soldiers in this game, Mike is definitely a war hero… with the scars and medals to show!
What is your name?
Michael Anthony Taylor
Where are you from?
Washington,D.C.
Thanking back to early childhood, what was your first experience with music for the first time like?  What song do you remember most as a child?
As far as I can remember there was music around the house. Motown galore, James Brown, just any singing group. I was always intrigued by good vocals and tight harmonies.  "I'll Be There" by the Jackson Five still rings in my head.
What made you first realize that you wanted to pursue a career in music?
I saw Earth, Wind & Fire at the Capital Center when I was a junior in high school.  Maurice White made the band
disappear (of course I didn't know anything about hydraulic stages), then moments later the horn section reappeared horns blazing… later that night I couldn't even sleep because the performance was so great.  That's when I knew that this was my calling.
How old were you when you started getting involved in music?
13, but I didn't really get serious until I was 16, 17 years old.
How did you become involved in the type of music you play now?
I used to practice with Michael "Funky Ned" Neal at school.  We both attended H.D Woodson together.   He was the first to really recognize the passion I had when I played.  He told me, "You should be playing for someone."
It was months later when Oo La Tony Brown heard me play, "Let Me Be Your Angel" by Stacey Lattisaw on my trombone and recruited me for Black Love.    Whew that was a line up…Myself, Tony, Tony Sharpe, Tidy Hayes, Boula Roper, Boogie Dews, Kevin Miller, just to name a few.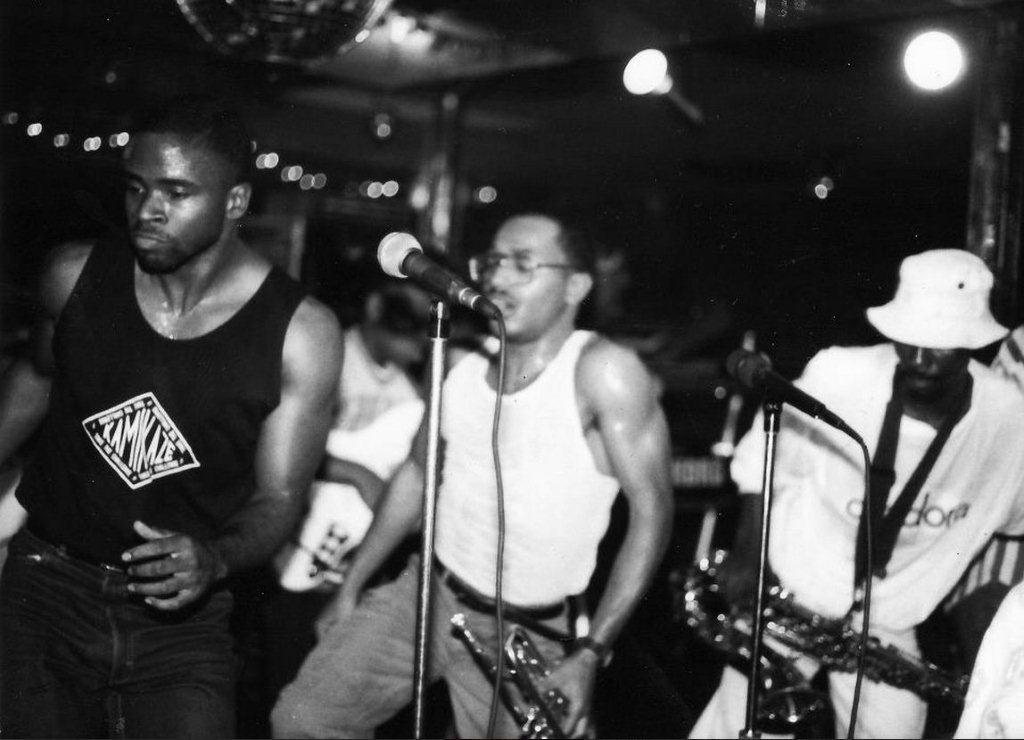 How did you get the nickname "Hard-Step" Mike?
Well you know my entire career with E.U. I was known as GoGo Mike.  When I was with the Masters, off the strength of the Cat in The Hat album, we were playing six nights a week.  On Saturdays we played at Breezes' Metro Club, I know you remember those days, that's how we met.     I was stretching a little before the show and Elmo was leaning over the congas and was clowning me. He said, "Mike be steppin hard than a mug!!!"  Benny and Godfava heard it and started calling me Hardstep.  Mark hasn't called me Mike in about 20 years, ha ha !!    I'm not sure but I think I'm one of a very few people in gogo who has two separate stage names.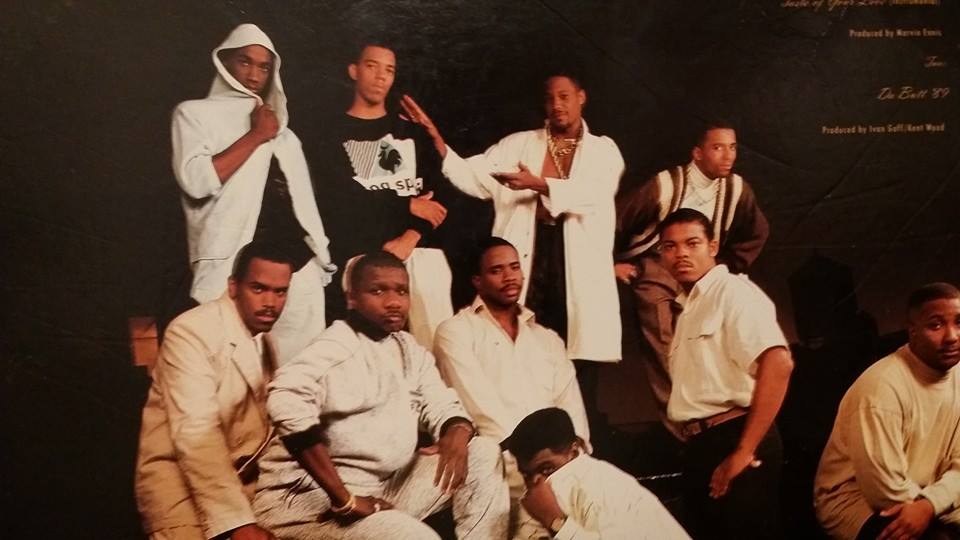 Can you me a brief rundown of the experiences that you have had in the music industry (i.e., groups, bands, other other projects leading to where you are today)?
Whew, well of course my biggest success occurred with E.U..   Everybody remembers DaButt, but few remember we had three other songs that were top ten songs during that time.  Shake Your Thang w/Salt & Pepa was an R & B and pop hit,  Buckwild, which we  did on our own was a huge hit, and then we shocked the world when we dropped a ballad, Taste Of Your Love.   Playing with Benny and with Familiar Faces helped me appreciate the power of live performances. I learned something from every band I ever played with.  Let It Flow is so different for me, because we  are so close.  Pam, our lead vocalist is actually my vocal coach, and she pushes me hard.  My crowning achievement was playing with Stevie Wonder at the Kennedy Center back in 2000.
What can people expect to see at your live performance?
Energy and lots of it.   Tight horn arrangements, support vocals, and good old fashion stepping !!!
What do you feel distinguishes "an artist" from just a musician?
A musician plays his parts.  An artist becomes one with the song and the performance.
What project(s) are you currently working on now, and how soon can we expect a release of it?
Currently working on making our horn section a more vital part of Let It Flow.  Expect a project from us in mid spring of 2015.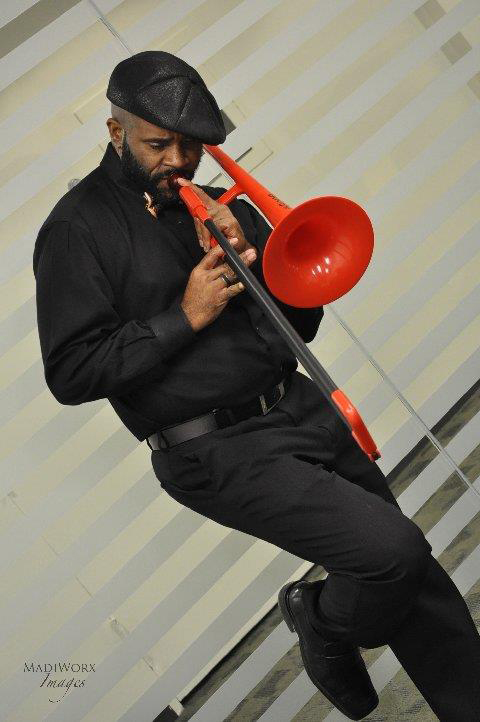 You have been in this go-go music industry damn near since the beginning of it.  What are some of the changes that you have noticed over the years?
Two things come to mind.  Free Agency and Grown & Sexy GoGo.    When I speak of free agency, I'm referring to when prominent GoGo personalities sit in with other groups. I'm not judging, it's just that we never did that back in the day.  My one complaint if I can see you with someone else Wednesday or Thursday with another band, why should I come see you with yours.  I'm just saying.   Now, I'll probably take some heat for this, but I think in a sense Grown & Sexy has hurt our music.  When Meisha and The Hiphuggers and then Lissen perfected covers with a pocket; it was all that the promoters wanted to hear. Original music started to take a back seat, because of how well we covered national hits.   Kato, the ironing of this situation is because of gogo's ability to perform a cover in a lot of cases better than the original artist, our own music has become a thing in decline.
Is there anything that you would like to do in addition to making music?
Just travel a little more
Art & Music has an impact on both young and old. Everyone loves a celebrity, so what advice do you have for the youth of today?
As cliche as it may sound, get as much education as possible.  Knowledge just gives you more opportunities.
If you had only five minutes on earth to perform one song that could leave a great impact on the world today, what song would you perform and why did you choose this particular piece?
Someday We'll All Be Free by Donnie Hathaway.   The lyrics were so powerful
Do you have any video links where people can see you?
I can be seen on almost any YouTube link w/E.U. during the 80's and most links with Let It Flow within the last few years
Is there anyone special you would like to thank for making your dream come true as an artist?
My mother,the late great Phyllis Taylor made me believe I could do anything if I was willing to work hard enough
Just for fun… please answer the following questions!
Without music, I would be:  boring.
Music is:  ministry.
My music makes me feel:  alive.
I write the songs because:  they make a difference.
Support music because:  it soothes the soul.
Thank you kindly!