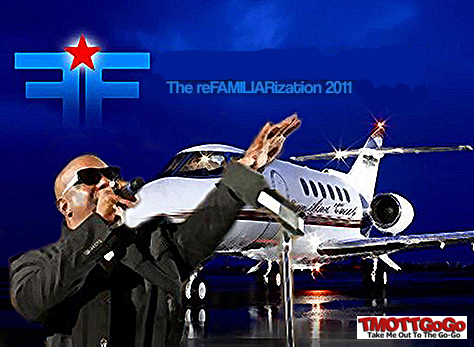 As a fan present for the birth of 911, holding on tight through the evolution that would gradually transform into Familiar Faces, refamiliarzation is not a challenge for me, the band has always stayed ahead of the curve, effortlessly.
For almost ten years I spent my late nights and early mornings, happy hours, birthdays and meet and greets in constant refamiliarization.  From Bud's Nightclub to Safari Steakhouse and Zanzibar, from the Tradewinds to the Heart & Soul Café, I still can't hold back singing the real words to "911" even when the radio spins the clean version. I could do the Brown & White dance with the best of them, maybe not with a horn in tow as Donnell and DP often did but I couldn't wait for the breakdown so that I could watch the guys get it in.  "Hey Miss Nee-na do your dannnce for me."  At the captivating command of Donnell Floyd, I would hide behind Al on the soundboards and watch as RE Angie, Keisha or any other gorgeous chica would charm the crowd with her dance. During those times it was nothing to have your favorite national artist drop in; or your favorite local artist drop out only to be replaced by another familiar face. Just another part of the refamiliarization.  On special occasions such as the Chuck Brown Tribute or once in a lifetime events such as the Rare Essence battle it was standard to have the band appear sharp in tuxedos but no less of a show complete with D-Floyd's signature bandana.
Refamiliarziation is the process of becoming reacquainted, the process of getting to know something again.  Not to be mistaken for nostalgia or trying to bring that old thing back, Familiar Faces has a new all star roster seasoned with individual successes, talent and experience.  The blueprint has been enhanced but the vision remains the same; worldwide exposure of DC's talent and an explosive and entertaining performance.  Refamiliarization doesn't focus on the past or even the present but the future.
-Nena Brown