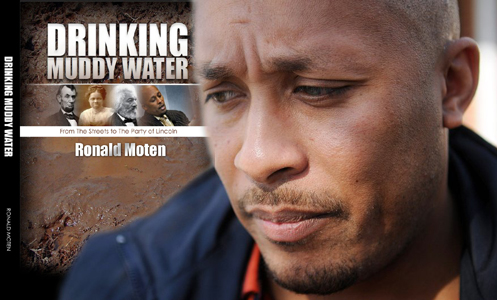 In Drinking Muddy Water, Moten exposes the ugly truth about DC politics, how he succeeded in reducing youth violence where others have failed, and his journey from the Democratic streets of urban America to the "Party of Lincoln."
Ron Moten, Washington DCís newest and most transparent author releases his new book compiled from the his personal experiences with four mayors and the behind-the-scenes intrigue of the City Council. DCís politicians are seen for what they are, the ones who care about the people and the ones who play ìPolitricksî over honoring their oath to the citizens of the District of Columbia. Mr. Moten also explains why he became a Civil Rights Republican, but not without exposing the painful truths of his past. From his troubled upbringing, to his community activism, now a Republican with one goal: ìBalance the Eagle.î Moten believes DCís one-party Democratic government has let down its citizens with both its overwhelming imperfections and, sometimes, outright corruption.
He believes the absence of the principles of checks and balances has hindered improvement for Washingtonians. Moten's Drinking Muddy Water lays out facts for all the citizens of the District of Columbia. After reading this book, they will understand just how much they are being misled and underserved. "Drinking muddy water" is a concept passed on to Mr. Moten but some old timers in the Civil Rights Movement who marched with Dr. King. They told Ron, "If you are going to finish the work that King began, you better be ready to drink muddy water."
Moten goes beyond just telling the story of his life and work with Peaceoholics, he provides a blueprint to purify the muddy water the people have been forced to drink for so long. He details his commitment to continue the fight to decrease violence among the youth and to politically enlighten the residents of DC. And even though the winds are blowing strongly against his wings, he is determined to see the eagle soar once again..
Motenís community activism stretches far back into the 90ís when he made a decision to no longer be a part of DCís criminal problem, but to participate in creating the solution. Drug dealer turned activist, Moten has had direct contact and countless communications with some of our citiesí most respected and most corrupt politicians. His former organization, Peaceoholics, worked with Mayors Anthony Williams, Marion Barry and Adrian Fenty to create anti-violence strategies to decrease brutality in our city. Moten is also credited for his contributions in brokering forty truces between rival gangs and aiding the employment of over 300 lesser skilled DC citizens and sent more than 160 at risk DC youths to college. Drinking Muddy Water salutes, by name, those who work for the  good  and candidly exposes those who bring down the city through corruption or selfish motives.
This no-holds-barred literary work that will create the ìah huhî moment for all who read it. Whether you are looking for a greater understanding of DCís backdoor politics or are in search of the truth regarding the rise and fall of the well known youth organization Peaceoholics, or interested in gaining knowledge of the Civil Rights Republican movement and its historic leaders such as Fredrick Douglass and Martin Luther King, Jr., Drinking Muddy Water will not let you down. Moten's efforts will open the eyes of dedicated yet disenfranchised democrats. He shows the effects of casually supporting a democratic candidate based only on party affiliation rather than casting a vote for the candidate that has the best long term interest in mind for the Nation's Capital.
Moten likens himself to the American bald eagle. He sums it all up by stating, "I have overcome adversities that the average citizen could not fathom, yet I still climb. I have not only created a new way of living, thinking and striving for myself, but I assisted others like me to do the same.  I liken myself to the eagle because, in order to fly, I must go against the wind, soar above its ills. I must rise above people with ill will that try to keep me and other eagles grounded. Whether it is ill-willed Politicians, socioeconomic ills, community or personal ills, the wind is always against us. I will continue to soar against the wind just like the American eagle, leading the way for those that are willing to go, just as those highly- respected Civil Rights Republican eagles who created the flight path for me."
Ronald Moten, the Man, the Mission, the Movement has achieved a lot, but in writing Drinking Muddy Waters. B both Democrats and Republicans, regardless of their skin color, background or personal interest, will be moved and educated by this book.  He will surely set the sky on fire as his story is read and the Civil Rights Republican movement continues to grow.
Drinking Muddy Water will be released at an event held on February 28, 2013 from 5pm to 7pm at Howard University Book Store (HUB), located on 2225 Georgia Avenue, NW Washington, DC 20001. A celebration will immediately follow at Donnellís Lounge on the corner of Sherman Avenue and W Street, N.W.
Press Contact: LaChett K. Landrum
Phone: (202) 321-0272
[post_view]