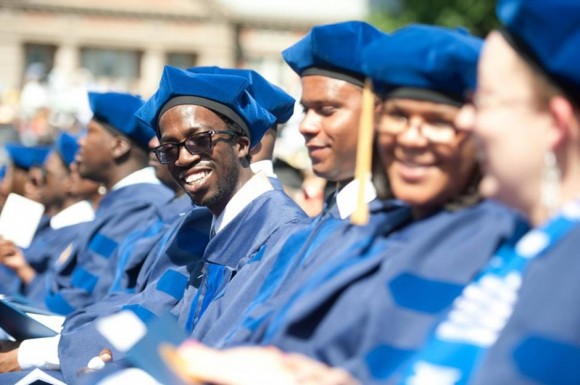 Howard University has maintained its' lead as the top producer of on-campus doctoral degrees awarded by Historically Black Colleges and Universities.
The HBCU announced this week that it plans to graduate 105 Ph.D.s from a variety of academic departments—the largest number of doctoral degrees to be conferred in the school's 147-year history—at Saturday's commencement ceremony where the keynote speaker is Sean "P. Diddy" Combs.
"Since its founding in 1867, Howard has served as a national leader in educating populations that are traditionally underrepresented in higher education," says the university's interim president, Dr. Wayne A.I. Frederick, who earned an M.D. and an MBA from the university. "Without Howard's contribution to the production of doctoral recipients among African-Americans and other under-represented populations, our nation's goals of significantly enhanced diversity in higher education and the research community would be much more difficult to achieve."
The hard work has paid off for Bethtrice Thompson, who will march down the aisle and receive a Ph.D. in biology. The Hazlehurst, Miss., native whose dissertation focused on using STEM cells to fight Brittle Bone disease, came to Howard because of its national reputation for research and her desire to secure a coveted position at the National Institute of Health.
She will continue in a temporary position at NIH but has also applied for several long-term university post-doctoral fellowships with an eye toward ultimately securing a tenure-track teaching position.
"It hasn't been easy," she says of her time in Howard's doctoral program. "I had good days and bad days, but as time progressed, I met so many wonderful people who encouraged and pushed me and reminded me of why I wanted a Ph.D. in the first place."