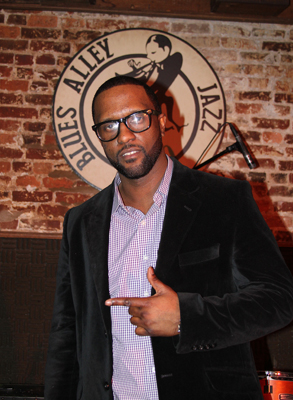 Frank Sirius gives good head nod. He takes care of his audience, nurturing them with his passion for music, which is simply inescapable. The allure of the band, Sirius Company, sneaks up on you like the date you just knew you wouldn't get naked with on the first night. The background singers are the nonjudgmental voice in your head. It's ok. Just let it happen. Enjoy yourself.
The ten o'clock Blues Alley show on February 15th, 2012 started so innocently. The headliner, the drummer, and the male background singer were all wearing those hipster glasses, perpetrating an odd 'nice guy' look. Maybe Frank's crew intended for the audience to sleep on their prowess, so they could strap up and go deep once all guards were down.
"This song right here…" Frank would begin before each song, as he explained his choice and gave insight into his process. During those times, he sounded like a new artist. But then he would groove with the song so well, we were reminded: He is NOT a new artist. Man, that's Scooby! We know him! He got this.
As he proceeds to give you what you need, his original songs fill a void. Talkin' unbelievable mass appeal. The audience sang along with his songs "Closer", "Remember My Name", and the very impressive cover of the Spinners' "How Could I Let You Get Away". Frank Sirius makes you proud.
When his between-song banter spun into to sensual, sexual references, the audience audibly gasped, moaned, and shouted their approval. Oh, yeah. This guy definitely knows what he's doing.
The audience was diverse, featuring those who looked older, some who looked and acted younger, Latino and white, go-go superstars, and the rest of us. As diverse as the crowd was his repertoire, delivering solid renditions of classic R&B favorites such as Maxwell's "Whenever Wherever Whatever". When he moved from the front of the stage to the piano to do Donnie Hathaway's "A Song For You", the chatter of the waitresses getting orders straight could have been distracting, but Frank Sirius was in a noticeable zone and pulled everyone in with him.
Frank Sirius and Sirius Company are purely likeable. In a perfect show moment, he introduced his father, referred to as Big Frank, and showed off some good family harmonizing and coherence. At one point, he challenged the background singers to an Old School Contest. He and they would take turns singing songs, encouraging the audience to choose sides. Frank sang "Ascension (Don't Ever Wonder)", "Whip Appeal" and "Before I Let Go" very well, but the background singers won, hands down. Ashley brought it with Chaka Khan's "Sweet Thing", and Donnie took it all the way there with D'Angelo's "Untitled (How Does It Feel)". Perhaps it was planned in advance and not on-the-spot choices as they had us believe. Perhaps your not-on-the-first-night date schemed to intoxicate you and make your toes curl like that. So what? That was damned good.
He closed the show with "Sunshine", a clear audience favorite, as he walked around the front of the audience, shaking hands and mirroring appreciation. And just when it was almost over, he introduced the exquisite Y'Anna Crawley, who had been sitting up front with an enthusiastically chatty group. Together, Frank, Y'Anna, and the band took us out to the go-go for a magical
minute that was over as soon as it started. After brief string of "Uh Ohohh-Uh Uh Ohh" calls over a Sirius crank, the show was done. The audience felt teased and they begged for more, but eventually settled on down, thoroughly satisfied.
Frank Sirius is part of the solution. If you don't know what the problem is, then that's what your problem is. But don't worry; Frank Sirius and Sirius Company got that good-good for you. Memo: Bring a date. At the end of the night, just pick your draws up off the floor, and dream until the next time you can get some more.