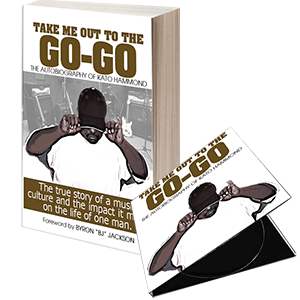 In the tradition of the autobiography/memoir, TMOTTGoGo's Kato Hammond opens up for the first time about the inside stories of his life growing up in the legendary musical genre of Go-Go — which is still going strong today.
In Take Me Out To The Go-Go, Kato Hammond exposes his unrepentant, unbridled life as a guitarist, actor, dancer, playwright, through bands such as Pure Elegance, Little Benny & The Masters, and Proper Utensils, to the Godfather of Go-Go Media. He delves deep into his volatile, profound, and enduring relationships and reveals an ultimate story of endurance, that started in the 1970s with a young Kato, a kid who despite negative statistics, took bold steps and sacrifices through lessons learned.
Kato takes you through a personal look into a human story through the Go-Go music culture, the people who inspired him, the ones who enabled him, the ones who tried to control him, the ones who changed him, the one's who gave him opportunities, and the ones who tried to take them away. Take Me Out To The Go-Go is a whole story: a loner's story, a musician's story, an actor's story, a writer's story, a recovery story, a love story, a success story, a failure story, a visionary story, and a re-construction story.
Along with this book comes a FREE CD, a soundtrack of the same title, depicting the music and culture illustrated inside of the book.
CLICK THIS IMAGE BELOW TO PRE-ORDER YOUR BOOK NOW!