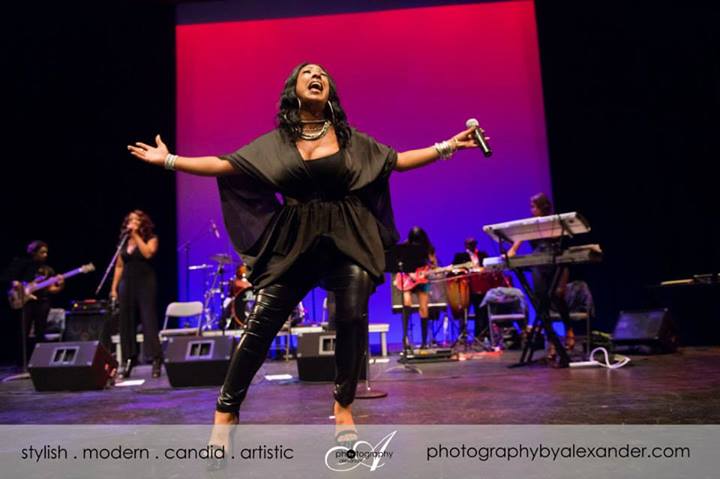 On the nights of September 13th and 14th a SpeakeasyDC event took place at the Atlas Performing Arts Center that focused its attention on the history and plights of Go-Go music.  By the end of each night, the entire house was partying… the way it was supposed to be done.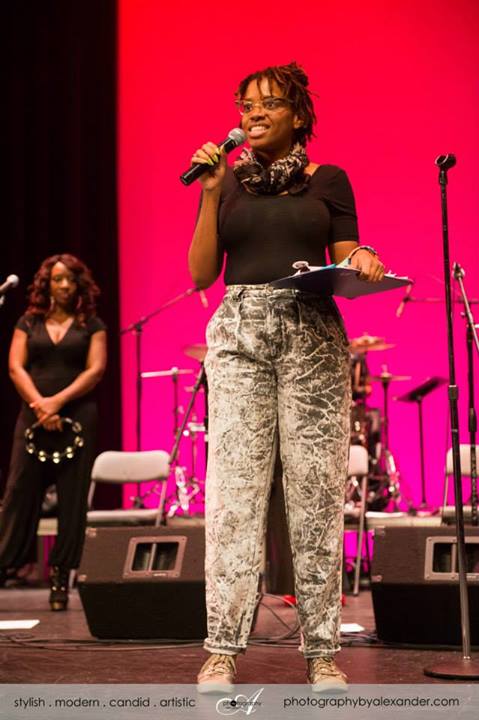 Brought together by producer Amy Saidman and director Jess Solomon, it originally started out as an idea towards bringing a program full of unique stories connected the DC Hip-Hop and Go-Go cultures to the stage of SpeakeasyDC.  But were later encouraged by Charles Stephenson (Go-Go historian, Co-author of The Beat: Go-Go Music From Washington, D.C., former chair of the DC Commission of the Arts and Humanities), to truly focus on Go-Go as the vehicle for the stories.
"That was a major turning point for this show. With new found clarity it was easy to connect how Go-Go, an art form indigenous to DC,  would make space for new stories, new audiences and hopefully more capacity for SpeakeasyDC as a cultural institution to produce unique shows like this." – Jess Solomon
And this is exactly what they did.  Hence, the plan was put in place.  They then reached out to the go-go community.  And with their gathering of an amazing ensemble of talented storytellers, musicians, dancers, artists and writers, SpeakeasyDC's Crank & Groove: A Go-Go Love Story was born.
Brought to the stage was a presentation that took the audiences on a rhythmic journey into the past and present of go-go history through music by Be'la Dona and storytelling by Playwright Nina Angela Mercer, Musician Christylez Bacon, Jounalist Natalie Hopkinson, Black Picasso (Poem-Cees), dance troop Da Originalz and Kato Hammond (TMOTTGoGo/TMOTTRadio).
————————-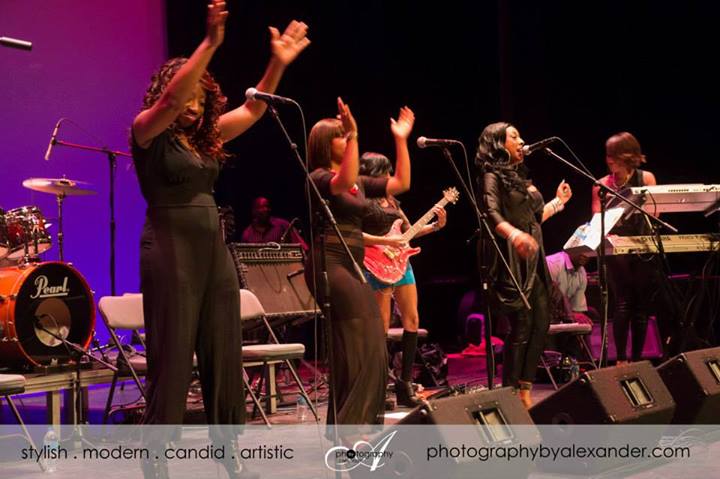 The show began with Be'la Dona who opened up the audience and set the tone for the night with a string of go-go laced tunes covering all generation eras of the genre.  And if there was anyone in the audience who was quite not familiar with the flavor that go-go adds to any musical composition, they were immediately made fully aware by the time the night ended.
——————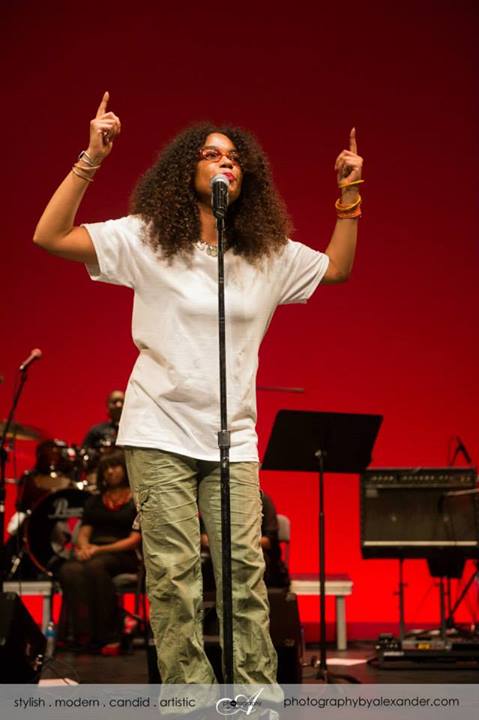 The first storyteller to take the stage was DC native and playwright Nina Angela Mercer.  Nina took us back for a moment to her childhood and how, through her dad John Mercer, became very acquainted to go-go music.  Since her dad was so prevalent to the early stages of the culture, she got to witness first hand the growth and production of company's such as TEDD Records.  She told of her dancing experiences with Joyce Mosso's Creative Dance Company, which enabled her, through the Marion Barry's Summer Youth Employment Program (SYEP), to perform with the DC Parks and Recreation's Showmobile throughout the city, which is also where many of us in the go-go community were able to actively showcase our art as well. 
She talked about how her dance group not only got the opportunity to perform at the Capital Center with Experience Unlimited, but how Sugar Bear welcomed them with open arms without even first seeing just how good they were.  And if that wasn't enough, she brought the audience into her story by inviting them to stand up and engage with her one of the dances.  So, by the time she was done, the whole house was up on their feet "Winding it up."
This basically set the tone for the night of the classic, yet not unfamiliar story of just how go-go helped shape her childhood into the awesomely talented woman that she is today.  A story that many of us can relate to.
——————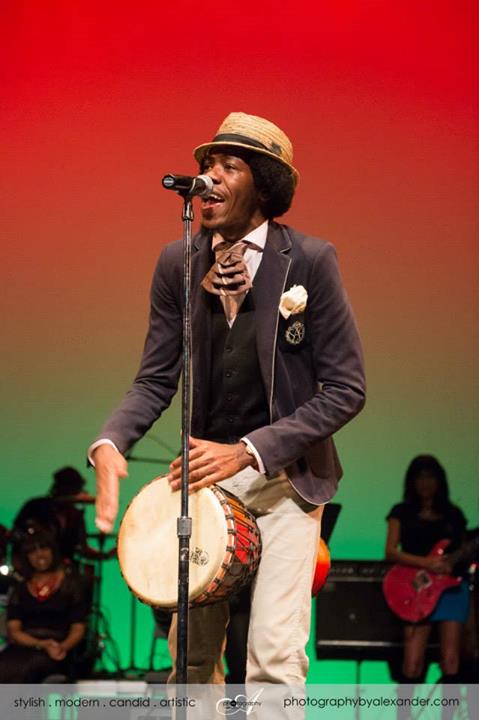 The next storyteller to take the stage was Grammy-nominated artist Christylez Bacon. Right off the bat, Christylez schooled the audience on the different techniques on playing the conga drum and how to apply certain techniques into that go-go sound. 
He also took us back through his early childhood days of the very first time hearing the Godfather of Go-Go Chuck Brown's song "Go-Go Swing" at a very young age and ended up actually being invited to open for him years later at the Strathmore. 
Bringing the classic audience "call & response" participation into his story as well, Christylez perform an original song called "Mumbo Sauce".  A term and delicacy basically known only to the DC area.
——————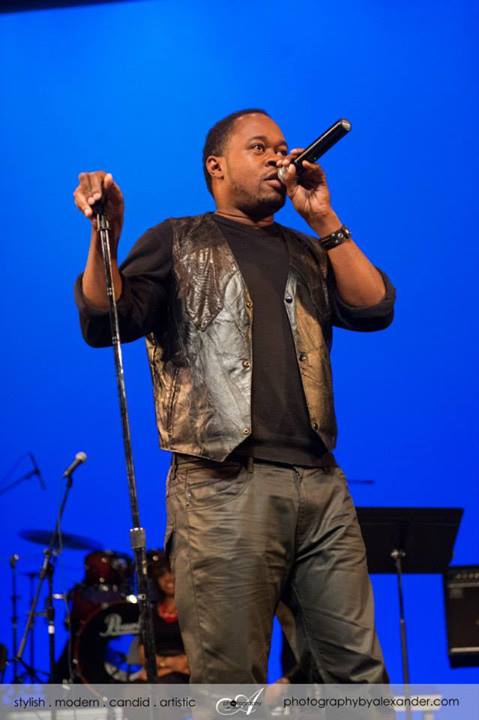 Patrick "Black Piccaso" Washington presented an animated yet very inspiring and funny story about his experience within the go-go music world, and how go-go was the catalyst that allowed him to advance from an "off-brand" brother to a "Maryland Bamma". 
We got to learn how when he first came to the area, folks would clown him because of the style of clothes he would wear.  That was until they found out that he played the saxophone.  How even though he was asked to join a band, his first audition was a failed attempt with a band called Special Request.  Yet he continued to push on until finally making it into another band called Mighty Creation. 
But the climax of this story was when his new band Mighty Creation ended up playing on a same card with Special Request and he got his chance to show them just how much he had progressed in the music style.
——————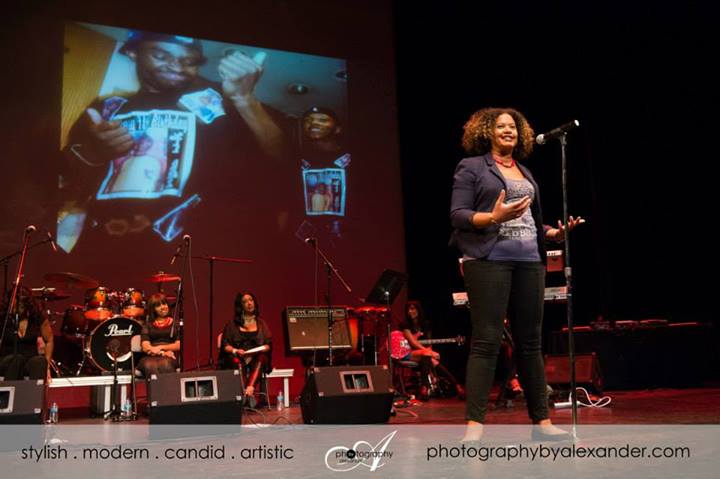 Journalist Natalie Hopkins, author of the book "Go-Go Live: The Musical Life and Death of a Chocolate City", brought emotion to the stage.  She discussed a time when she was covering youth issues for the Washington Post and through the introduction by TMOTTGoGo's own Richard O'Conner, would routinely visit a go-go spot called the Hot Shoppes. 
She described the spiritual and ritual connections the she discovered between Go-Go and West African music.  The way they both honored transitioned loved ones through music and dance.  And she recounted her story of a particular article she had written in the Washington Post about one go-go patron by the name of Marvin "Slush" Gross and the dance he created called "Beat Ya Feet".  Who later ended up having an honoring ritual of his own through music and dance after his tragic and untimely death.
——————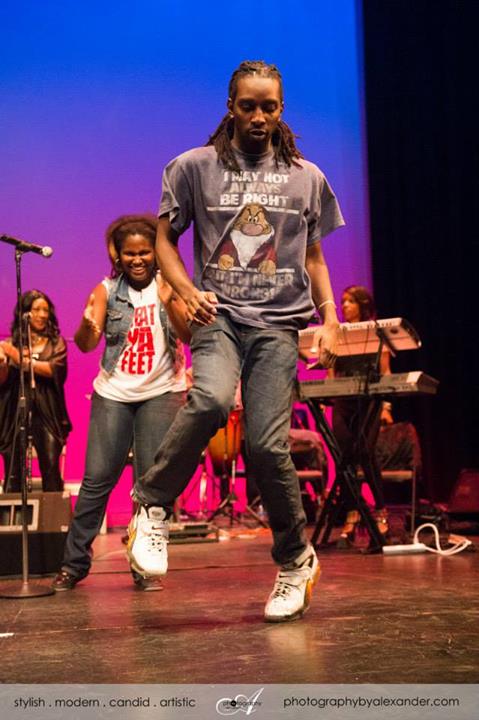 Once Natalie left the stage, two members of the dance group Da Originalz took the position, and to the bounce beat drive delivered by Be'la Dona, picked up on her story by giving an exciting demonstration of exactly what the "Beat ya Feat" dance is. 
This performance generated much excitement from the crowd.  Especially when a little girl, by the name Ahriana, was pulled onto the stage and joined in presentation with them.
This to me was a moment that showed how even though Go-Go music is a genre that has been thriving for the past 30+ years, there are still new generations of it to come.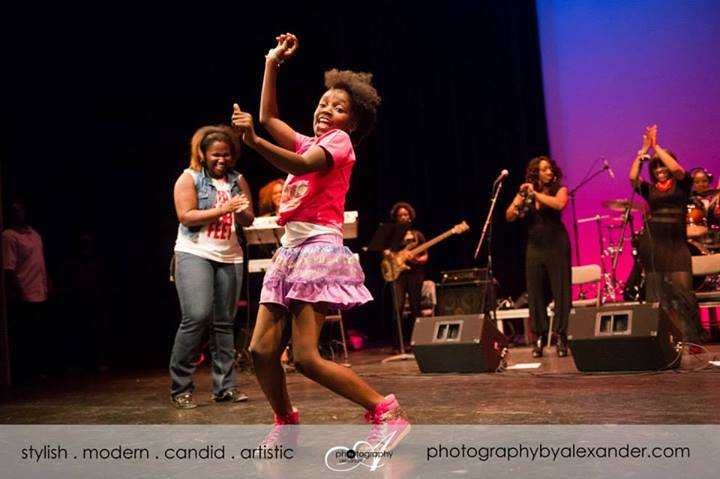 ——————-
Finally it was my turn to take the stage and tell my story.  The elder Griot,  I touched on the circle of inspirations and impacts that goes on between musicians within the go-go music culture.  How at the very young age of 14 I was inspired by a band called Rare Essence… and especially with one particular member of the band… a kid that everybody called Little Benny.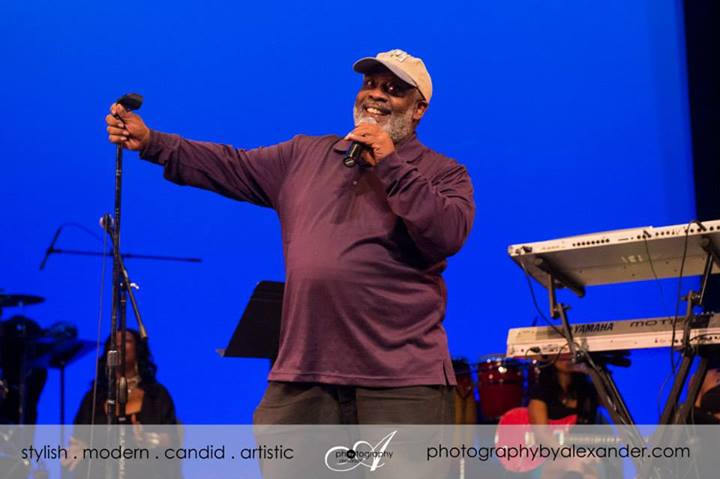 I told about how I would intensely study their music and presentations until actually one day eventually finding myself playing in a same band with Little Benny and a few other members of Rare Essence for about six years.  To the time I ended up leaving the performance aspect of the music, yet later building a website and magazine, titling it after a song created by Rare Essence.  To the time Little Benny  actually agreeing to grace the cover of the very first issue of that magazine. 
I finally took the story a place that was emotionally personal to me.  Of how while attending the funeral of Little Benny many years later, emotionally discovering that the magazine cover he had done for me years earlier, had been added into the pictorial booklet program that displayed his life.  A moment that told me how this man who I had always been inspired by, who actually played a role in my life's story, even in some little tiny way, I must have play a role in his as well.
===========================================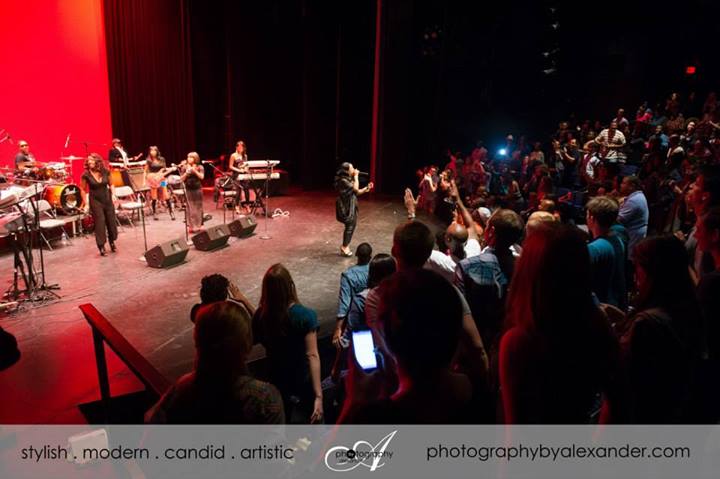 By the end of both night's show, it was no doubt apparent that what we all had set out to do was successfully achieved.  And just as Jess had predicted, we were able to connect and musically communicate just how Go-Go, an art form indigenous to DC, continues to be able to make spaces for new audiences and hopefully more capacity for SpeakeasyDC as a cultural institution to produce unique shows like this.
Probably one of the most powerful statements of the night made by Nina Angela Mercer explained it all.  She stated how Go-Go is a musical form that refuses to be subsumed **by any** other musical form. This is something that cannot be said about rap music, because it has been subsumed, in many ways, by pop. This in itself appears to be the power that lies in Go-Go as a continued art form.
** Photos by Alexander Morozov
*** (Video clips of performances coming soon)
——————————
About SpeakeasyDC
Founded in 1997 and named "the gold standard in storytelling" by the Washington Post, SpeakeasyDC has become one of the leading presenters of live storytelling in the nation, now with over 25 shows a year, adult education classes, youth programs, and consulting services. To the uninitiated, this kind of storytelling can best be described as a cross between stand-up comedy, theater, and live memoir.  Each story is autobiographical and true, and personal with SpeakeasyDC's signature style of humor and heart.
SpeakeasyDC's mission is to: present high-quality performances of meaningful true stories from diverse perspectives that deepen the understanding of the self, the other, and the human experience; create opportunities for people to learn about, practice, and excel at the art of contemporary true storytelling; and promote curiosity, compassion, and community through storytelling.