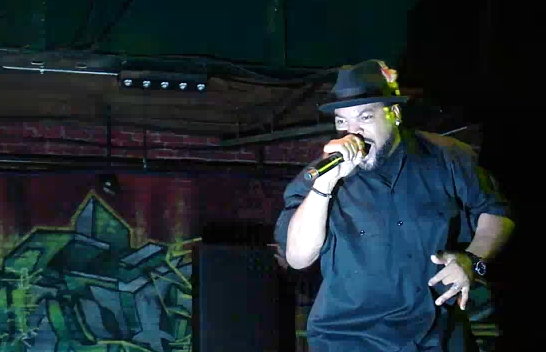 By Nena Brown
TMOTTGoGo's friend and favored Ice Cube recently made his 8th stop on the multi city "Ice Cube Tour" at Baltimore's Bourbon Street.  As DJ 5 Starr spun a little Jay Z, some Wu Tang, a lot of Death Row and various Nate Dogg laced choruses, the anticipation and the horde thickened.  While the Baltimore DJ spun, the cover of Ice Cube's latest album "I Am the West" draped the background and set the scene on stage.  The crowd was as diverse as the certified platinum rap icon and seasoned actor, some dressed in Ice Cube's signature all black Dickie outfit or Oakland Raider paraphernalia.
After a hype chorus of  "Yea Yea" and "F*%k you Ice Cube!" from the crowd, the man himself appeared on stage with his partners in crime WC and DJ Crazy Toones.  After a brief greeting, Cube jumped into the 1988 NWA hit "Straight Outta Compton" and took you sequentially through every year and album spanning his 20 year rap career.  He took a break only to highlight his 1992 #1 Billboard status with "the Predator", a show and prove to the world that he would not stop or fail at rapping just because he was acting.  Clearly not missing a beat or a breath, he smoothly transported the crowd from the recognizable "Bow Down" and "We Be Clubbin" to the street anthems like "Natural Born Killers" and "Go to Church".  When it came to the infamous crip walks and gangsta boogies across the stage, he didn't miss a step.  Commanding right to left peace signs in the air, the 15 year old hit "Today Was a Good Day" was the climax of the night.  Just when you thought it was over, Ice Cube presented his two sons rappers Doughboy and OMG who paired up with him to perform the catchy "She Couldn't Make It On Her Own" from his latest album "I Am the West". He closed out with another single from that album, "I Rep the West".
It's a wonder that the executive producer, guest star, talent scout , rigorous promoter and frequenter on the talk show circuit for the tv show "Are We There Yet" has time for a tour or any other project.  A great show, an exciting performance, F*%k you Ice Cube!
WATCH VIDEO CLIP BELOW: