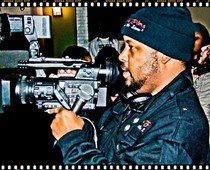 By Sidney Thomas | DC Music Examiner
Wings "Wingsworld" Davidson is one of Washington DC's most prolific videographers. Wings specializes in filming local go-go bands and hip-hop artists, but his video portfolio also contains camera work for the Washington Redskins, the University of Maryland football program, and the 2010 BET Awards. Wings usually keeps a hectic schedule, but he took off a little time to talk with the Examiner about his cinematic adventures.
ST: How did you become interested in videography?
Wings: I got into videography as a hobby. I used to go to the Goodman League summer basketball games (at that time it was still called the Barry Farms League) in 1999 and record the games from the sidelines. I realized I was getting good in 2004 when I shot some footage of the Afterhours band at the Safari Steakhouse. The band loved the finished product so I started filming Afterhours shows regularly and producing DVDs for them. After a while I began receiving calls from other bands asking me to film their shows. Then a special person in my life named Nikki bought me my first professional camera – and after that, I never looked back.