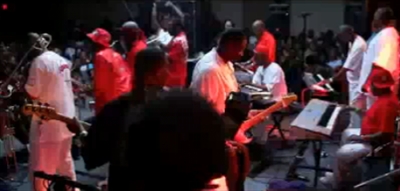 WARNING:

If you are not a true go-go head, you may have a difficult time understanding the "Pit" lingo of this review.  In Case of Emergency, just simply ask someone who does

.  lls
By Mark Ward –
Walking into the ballroom, I was already filled with pre-anticipation of the crank.  I had gotten there early because I was given the pleasure of being able to watch most of the members from the 1982 RE line-up crank "Body Moves" during the run through sound check. And that was when I first saw that old stage prop — The RE Express Train!!  I was like, "Awwwwwwww shit!!"
So as they begin to let people in, I see folks from high school and old co-workers.  It was all Fam in there. And all the era's representing too. All the way from the Young Dynamos days through the gansta chronical days, Triples, Uptown, all towns up in this piece. And as usual, James Funk arrives.  And that's another sign that it's going to be cranking.
I've gotten to know some of these band members over the years.  I've seen them all with different bands playing or touching some of their old RE music in their flavor.   Yet, the one thing I has always been looking forward to, as well as they have, was to rock under the name "Rare Essence." There's something about that name that makes those old grooves sound more disciplined, cleaner, just plain ole good. LOL
Anyway on to the set I remember. (had a pre-party before leaving out ..lls)
They opened up Cap Center style and to the top of "Shake It But Don't Break It," and then went into a bit of "I've Got That Feeling" and then "Roll Call." Shorty, DP, and D.Floyd backing up the frontline — basically doing a portion of the GoGo Live show, which was rocking.
Next up was "RE Herman"… I believe.  One thing that I liked about this set was the love shown to all the grooves played. Nothing rushed ( initially.. lol) And it wasn't just some get in and get out of the grooves type of thing.  They were playing the complete songs for the most part.
Then came "What Nigga What," which brought in the 90's material.  Ms Kim came on the stage for the "Ghost Face" joint.  And maaaaaaan, that particular joint was grooving like shit for a timbale arrangement. Googie had them sounding so good that I could really hear what Whiteboy was playing on the guitar. And listening to him, Mike Baker on the bass and Godfava, JB, BJ and Darron X on the keyboards, that shit sounded funky as hell.  And from there, they introduced the newest edition to the band. A female vocalist that goes by the name of Kiki, who also sang a song. And a very special thank you to them for the 20 minute workout!
Ohhhhhh, I forgot to mention that EU was there and played too.  I was jive blown at that. Don't get me wrong.  I love EU in all, but man, if it was supposed to be RE's reunion, I don't want to see any other band that night.  Dig this, if you got 30 years of music that you are celebrating (message to promoters) take the time and do some research on who your throwing a show with, and realize all those people where coming to see RE anyway. The time they had was never going to be enough with yall having an opening band. But big ups for having it.  I will most definitely be checking out more of your functions.
Anyway.  So the first set is over. Now comes the part that I really wanted to checkout. The Inner City Groovers. The Original RE and those grooves.  Funk taking a ride in the RE train across the stage, The band jumping smack into "RE Express" and cranking it. It was cool. I noticed Whiteboy directing into song format, which was cool with me. Hell, I remember when a 5 minute long song got no air play because it was too long.
While getting my party on in "the pit", RE kept the party moving while slipping into "Body Moves." And they hit the whole damn thing, steps and all — wearing the red and white.
They played "Backs up against the wall" And yes, they they hit the whole damn song.
From "Get on the wagon," they took it to the bridge — twice.
On "Jungle Boogie," they gave it to Boogie in the pocket.  Go-Go Mickey on the tombs.
From "Take Me Out To The Go-Go," they jumped slammed into "Camey All Over," and then went into a dedication to Footz in the "One On One,"  and "Cat N The Hat" dedication to Lil Benny and his kids, while his son Brian rapped lyrics.
Oh, and I think I remember hearing "Holy Ghost" too. lol
And then of course, "Lock It!"
Dammit.  Due to tech difficulties they ran out of time. But I'm hoping that it showed everybody that they need to do this again — and next time, make sure there's time for an entire RE party, man.
Peace, I'm out!
-Mark Ward
CHECK OUT VIDEO CLIP BELOW OF PART OF TAKE ME OUT TO THE GO-GO AND THEN CAMEY ALL OVER:
Property of DeeVee.
——————————————
MAKE YOUR COMMENT VIA FACEBOOK BELOW: