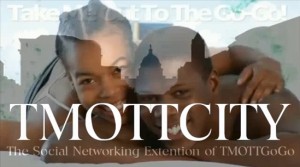 TMOTT CITY is a social networking extension of TMOTTGoGo.  The new platform gathering hot spot where members sharing common interest in the Go-Go Culture can connect, network, and share information, to include events, photos, videos, and music.
Visit now:
1. Sign up easily and swiftly (without filling out anything) simply by the just clicking the "FACEBOOK" button on the right side of the screen.
2. Design and custom your own personal page, the main wall feeds, private inbox messaging, chat area, event submissions, photo submission, forum submissions, blog submissions and video embeding (via YouTube, Hulu and Vimeo).
TMOTT CITY – where everything we do continues to grow and grow.