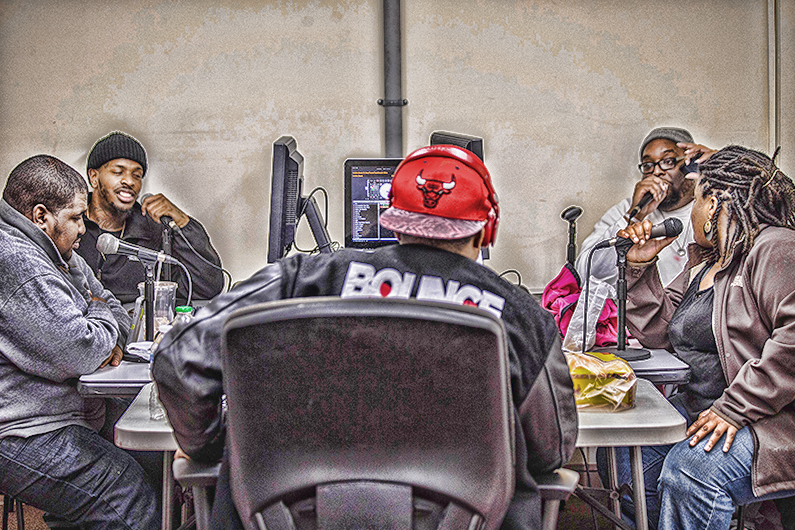 Bounce Beat Radio is comprised of four on-air personalities. Caesar "CBo" Bowman, Jason "Cocky" Lewis and Paul "Dj Black House" Orange from the 12th Street neighborhood in North East D.C., and Shooters of ABM from Suitland, Maryland.
TMOTTGOGO: How old were you when you started getting involved in music? Can you tell us a little bit about that first experience?
C-BO: I Started Loving Music at a young age 7 old to be Exact I played in the school orchestra the cello and my Uncle who record gogo show would dub me about 15 PA tapes and give them to me every Christmas That's how I feel in love with music.
TMOTTGOGO: Ever since the coming of the Bounce Beat sound within the Go-Go movement, although there have been many in the older generation who have embraced that style, there have also been many who have not. In your opinion, why do you think that is?
C-BO: I think many other bands haven't embraced the sound because the bounce beat sound is Very Hard to play it not as easy as people think so the older bands try and write it off as young people music when they haven't took the time to learn the sound and most older band already have a set crowd and don't really want to give them that new raw sound and beat.
TMOTTGOGO:  Can you explain the differences between the bounce beat style of playing Go-Go and the traditional style of playing Go-Go?
C-BO: "The difference between traditional style of Go-Go and BounceBeat is Traditional Has a More of a laid back approach when playing you are going to play more cover music a couple of pockets and then play a break down or a 3 step but BounceBeat you are going to play 1 Cover, 1 pocket and then you are Bouncing the rest of the night.
Polo the creator of the bounce beat music used to say it all the time, we going straight into the crank.
TMOTTGOGO: In your opinion, what would you say are the positive points and the negative points within the Go-Go music culture today?
COCKY: "I believe the positive points in the go-go culture today are as followed:  individuals in the industry are becoming more community oriented which allows the fans to have a more inclusive relationship with who they spend their money on a weekly basis. Bands are selecting more diverse cover songs for example the "Hello" cover by Adele that Backyard has captured. Bands are using social media platforms to reach new consumers all around the nation as well as the world. The negative points in the go-go culture today are as followed:  There is still not enough unity between bands. Bands are not releasing enough radio ready music. There are still not enough venues willing to allow our music into their establishments.
TMOTTGOGO: You radio show Bounce Beat Radio. What is the format of this show? Who are all the players and what are their parts? And what can people expect when tuning in to the show?
DJ BLACK HOUSE: Bounce Beat Radio's show is centered around providing a clear snapshot of the current climate of Go-Go, primarily focused on the Bounce Beat circuit. The personalities involved are C-Bo (Lead Host/ Lead Talker of 3DB) with Co-Hosts Shooters (Lead Talker from ABM) Cocky (Community Activist/Former Manager of 3DB) and DJ Black House (Metro-Quaterz Co-Founder/Community Activist). We start the show off by spinning classic/latest jams from Bounce Beat Bands, followed by a brief recap of all the personalities week's and any interesting news surrounding the DMV and/or Global events.
Shortly thereafter, we transition into a range of topics that cover the current Bounce Beat circuit and any important topics/news surrounding other Go-Go circuits. We have extensive analysis through opinions, fact checks, personal experience within Go-Go and callers who provide their own insight regarding the topics. If there are guests for the show, then we conduct their interviews formulate questions that tie into the bigger topics from the night. We then have a throwback session, comprised of classic pockets/sockets, breakdowns, and bounce beat jams from the early days aka The Golden Age.  The Fans as well as the Go-Go community can expect a great overall show covering topics that reflect the current climate of the game. Through our extensive experience within the industry and our rapport with the Go-Go Community, we are able to provide a "Keep It Real" delivery while providing a great environment for our guests to embrace & enjoy Bounce Beat Radio. You can expect the Crank, The Whole Crank, and nothing but the Crank from DJ Black House's extensive catalog of Go-Go music, bringing back fond memories that people have and continue to share about their experiences in Go-Go.
TMOTTGOGO: What are your thoughts on the music on the radio today?
DJ BLACK HOUSE: "Music on the radio in certain respects has become something of a past time. As the internet provides more artists opportunities to showcase their talents to the world, we as consumers do not rely so much on mainstream radio as we did in the past.  As it pertains to the DC music scene, I think that we often forget that Go-Go is embedded in the DNA of DC Culture. As the culture progressed and evolved into the "DMV", other genres of music became a priority and Go-Go became secondary. There are plenty of people that proclaimed their allegiance to DC due to the success of Backyard's "Hello" cover, that will never step foot in a Go-Go, purchase the music, or respect the culture as a staple-mark in this region.
However, we believe where there is a void, there is an opportunity. This is our opportunity to take control over our Culture and embrace it the way we wished other would. Since the emergence of Bounce Beat Radio, we have been able to established steps towards restoring the integrity of the industry, reconnecting with fans who otherwise we would lose to the forever changing DC culture, and reigniting the fire/motivation in Go-Go to continue providing that awesome music that shapes our DNA.  The Music scene can always improve however, we will not wait any longer for a name/number to be called. We are strengthening our movement so that Go-Go music will never be labeled as a secondary musical genre in DC/MD/VA as well as be taken seriously across
the world.
TMOTTGOGO: If you had the opportunity to change something about the music industry, what would it be?
C-BO: The one thing I would change would be to let Go-Go music in and let it go mainstream.
TMOTTGOGO: How do you think you would like to be remembered by everyone when all is said and done?
C-BO: I would like to be remembered as a gogo legends that made good music but most importantly I want to be remember as a great leader in my community with all the community service I do with the youth.
TMOTTGOGO: Are there any other "behind the scene" secrets, tips, or additional information you would like to share with our readers?
C-BO: They call me the Donnie Simpson of Bounce Beat. I can find out what's going on in the circuit before anyone. Remember to stay focused and true to yourself. Nothing can stop you.
TMOTTGOGO: If you had to think of a slogan that could eave a positive impact for everyone, what would your slogan be?
DJ BLACK HOUSE: For Bounce Beat Radio, we have taken on the slogan of being "The Heart of the Culture, the Voice of the Bounce". In doing so, we've taken a pledge to make sure that Go-Go is represented correctly in all  facets as well as creating an outlet and a voice for the younger generation, under the tutelage of the great Reggie "Polo" Burwell and the forever lasting legacy that bands are helping to preserve, maintain and contribute to.  Far too often do we make statements about "Go-Go" as a whole however, "Bounce Beat" is treated like a different type  of music. Bounce Beat is Go-Go and our movement will make sure that others bands and other people intrigued by Go-Go understand that we are here, we belong, we care, and we love this genre just as much as the Traditional Bands, Grown & Sexy Bands, Chittlin Circuit Bands, Gospel Bands, & Go-Go Fusion Bands. We Are Go-Go!! Bounce Beat Radio "The Heart of the Culture, The Voice of the Bounce.".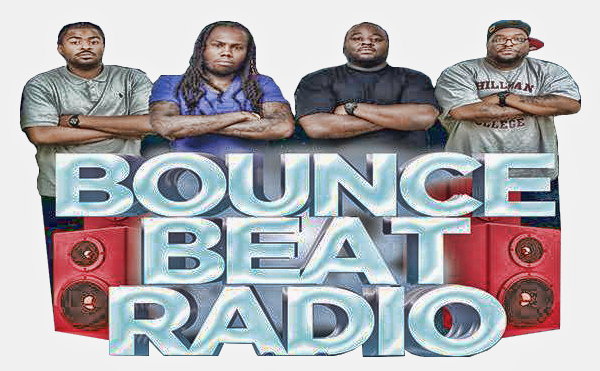 End/