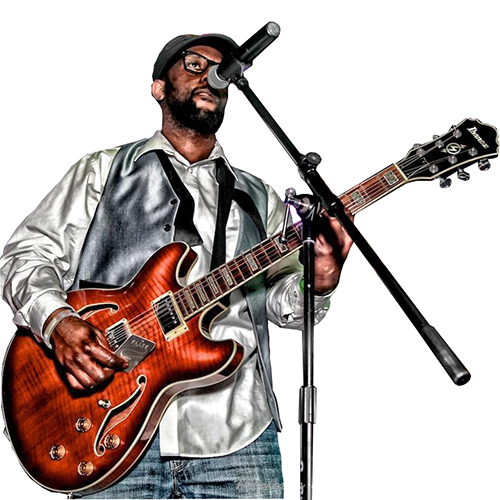 Sure you are familiar with him –- one of the lead singers for the famed trend-setting Go-Go band Lissen, as well as bands such as OP Tribe, Team Familiar and The Chuck Brown Band. Penned the "Godson of Go-Go", and the motivating factor of many sellout performances across the east coast, his soulful, heart pounding melodies and his smooth vocal styles cannot be denied.
This amazing entertainer is soon to be re-discovered as he embarks on a break-out solo career. He has emerged from the lead of an award winning band to become the next hottest solo artist to mount out of the DC metropolitan area. With his new solo album coming soon, fans are anxious and curious to hear what masterpieces he will create on his own. A combination of sounds from musical geniuses such as Donnie Hathaway, Marvin Gaye, and George Benson, he is undoubtedly the next musical superstar, crossing over R&B/Soul, Pop, and Hip-Hop genres, and giving life to the forgotten acoustic sound.
"The brightest star in the night sky overflowing with intrinsic luminosity" – we introduce, FRANK SIRIUS.
TMOTTGOGO:  What is your name?
SCOOBY:  Well, I was born Frank, but my family has always called me Scooby, so that stuck with me until I got older & my girlfriends would demand I be called by my real name… lol. But, I started calling myself Frank Sirius back in 2009 to better reflect the intellectual side of my growth as a person/man/musician/artist.
TMOTTGOGO: Where are you from?
SCOOBY: I am from SE Washington DC. A proud product of the DC public school system. An Eastern High graduate.
TMOTTGOGO: Thanking back to early childhood, what was your first experience with music for the first time like? What song do you remember most as a child?
SCOOBY: Well, with me growing up around music all my life, I really can't remember the significant point where I first heard music, but I can tell you remember my dad's singing group always practicing in the basement, harmonizing. And I was always intrigued and fascinated by the harmony they would do! As far as the song I remember most, it's a song my father wrote for his children, and it was only 1 verse but he would take turns putting our names in it. We would all sing that song together, so that's always been a pleasant memory for my brother & sisters!
TMOTTGOGO: What made you first realize that you wanted to pursue a career in music?
SCOOBY: I would have to say in High School when I met the members of L!SSEN. Our name was Smoove-n-Subtle back then, and we thought we were going to be the next Boyz II Men… lol. We went on to win at Apollo, but when the leader of the group, Ed McQueen, was killed in a car accident, we took a few months off and came back as L!SSEN. And that started a incredible journey in this town. A journey, for me, that has led me to where I am now… still making music.
TMOTTGOGO: How old were you when you started getting involved in music?
SCOOBY: Probably around 5 or 6. I tried the youth choir thing for a second, but I really got involved in music at 9 years old. See, back then, it seemed like, every neighborhood had a band. And we had a band called superb or something like that… lol. We started out playing on buckets and cans, then our parents got us some equipment and we were off and running.
TMOTTGOGO: How did you become involved in the type of music you play now?
SCOOBY: I grew up on Go-Go music, so when we started our band, it was no question what kind of music we would play. But back then it was more R&B influenced.
TMOTTGOGO: How would you describe your music/art/entertainment for a public audience who may have never seen you before?
SCOOBY: I would say it's "LIVE" first and foremost. It's Entertaining, and if you listen to the writing, it's very intuitive! I like to write about things that may help someone listening.
TMOTTGOGO: Who is Scooby and who is Frank Sirius?
SCOOBY: Scooby is the kid around the family. In fact, if you call me Frank around any of my family, they're going to look around like, "who're they talking to?" LOL. I'll always be Scooby. Now, Frank Sirius is more of the artist that I'd like the world to get to know. I think I'm a bit of an idealist. A guy who wants to talk about the issues of the community, the country, and the world. And hopefully inspire people to open the dialogue on issues plaguing our people and our planet.
TMOTTGOGO: How many musical instruments do you play?
SCOOBY: I honestly don't know, because there's a difference in playing an instrument, and being able to get paid to play an instrument… lol. So, let's count the ones I've gotten paid to play. The guitar, the piano, congas/percussion, trumpet, and drums.
TMOTTGOGO: Can you give me a brief rundown of the experiences that you have had in the music industry (i.e., groups, bands, other projects leading to where you are today)?
SCOOBY: Wow, that's a loaded question. I started doing it professionally with a band called OP Tribe. Since then I've played with or shared the stage with so many incredible artist like; Chuck Brown, Team Familiar, L!SSEN, UCB, Raheem Devaughn, Wale, Kanye, Fantasia, Anthony Hamilton, Jada Kiss, Slick Rick, Doug E Fresh, John Legend, Marsha Ambrosia, Lyfe Jennings, Lil Scrappy, Kenny Lattimore, Dru Hill, DJ Kool to name a few.
TMOTTGOGO: What can people expect to see at your live performance?
SCOOBY: A lot of energy as well as vocal range. I like to improvise and keep a live show "LIVE" and interesting. In DC fashion, involve the crowd as much as possible… and PLAY GOGO MUSIC!!!!!!
TMOTTGOGO: What do you feel distinguishes "an artist" from just a musician?
SCOOBY: In my opinion, I think a musician is good at playing music, while an artist delivers the music in his/her interpretation. It's like a painter, dancer or any other kind of artist, you can tell everybody to paint the same thing, but each artist is going to deliver it the way that comes from their heart and imagination.
TMOTTGOGO: For as long as you have been in this go-go music industry, what can you say are some of the changes that you have noticed over the years?
SCOOBY: I've noticed that the city has lost the connection to a kind of "farm system" for the music. We've always had younger bands, in their own interpretation, work on being go-go artist that fed into what the older bands were doing for the most part. But for that period of time that music was taken out of the school system, I think it hurt the musicianship of the younger generation. But with that being said, I think the enthusiasm is still there for the music, it's just sounds different than what we grew up on, and nothing is wrong with that. Every genre of music evolves. And go-go should be no different. I embrace the new sound, as long as there's some original music being made. I've also noticed that the business of the music has changed. At least to me.
TMOTTGOGO: How do you think you would like to be remembered by everyone when all is said and done?
SCOOBY: He gave it everything he had on that stage, and he made some music that can be played over the span of forever.
TMOTTGOGO: What do you think makes you and your style unique from other artists?
SCOOBY: That's easy. It's where I'm from. DC has a sound and feel that's so hard to duplicate, and I embrace it. It's the one thing we have, that nobody else in the world has my trump card.
TMOTTGOGO: Art & Music has an impact on both young and old. Everyone loves a celebrity, so what advice do you have for the youth of today?
SCOOBY: I would first say practice and work on your craft as much as you work on becoming popular, actually more than being popular. If you're good, the popularity and recognition will come.
TMOTTGOGO: If you had only five minutes on earth to perform one song that could leave a great impact on the world today, what song would you perform and why did you choose this particular piece?
SCOOBY: That would be a song I remade with The Chuck Brown Band, by Ziggy Marley, called "Love is My Religion". It embodies what I feel about the world and what we need to try to accomplish as humans.
TMOTTGOGO: Just for fun… finish the sentences!
Without music… I would be a politician.
Music is… a life saver, and the one true universal language.
My music makes me feel… all kinds of emotions. I try to write and sing about all kinds of topics. But it mostly makes me feel liberated.
I write the songs because… I feel like I have to get them out of my head and on paper and eventually to the world.
Support music because… it's the first line of defense to hate. When love is expressed thru music, it's easy to ingest.
Thank you kindly!!
-KH