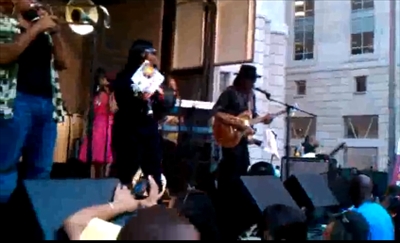 In the wake of his new CD release of "We Got This," Chuck Brown gave a free live performance at the Woodrow Wilson Plaze Friday evening.   In this 33 minute Docdad70 video  stream, a prime demonstration of exactly what the Sprint EVO with 4G can do, as we see performances by K.K. (Chuck's daughter), D.Floyd, and Kimberly Michelle.
Of course the clip isn't the greatest, but if you didn't get to make the free concert, you definitely get an idea of exactly what you missed.
WATCH THE VIDEO CLIP BELOW:
**Property and permission from Alfred J. Dockery, Sr.
————————-
MAKE YOUR COMMENT VIA FACEBOOK BELOW: