Nena
Brown
Writer
View all of Nena's Articles
.
.
——————————————————————–
A Chat with Kangol Kid About Mama Luke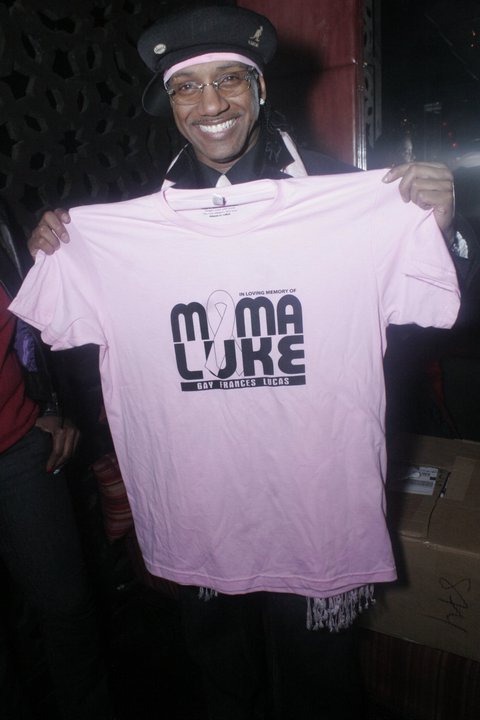 "I have successfully gotten Hip-Hop involved in the fight against breast cancer, this is the first time Hip-Hop has gathered for such a thing.  We are going to put that OOMPH that Hip-Hop has into it, as we do in everything." declared The Kangol Kid.
OOMPH…can only be described as that skill and will to battle that is embedded in Hip-Hop, artistically or against adversity. That oomph prompted Kangol to contact his celebrity friends including LA Sunshine, Dana Dane, Roxanne Shanté and other Hip-Hop pioneers who raised funds and walked in a race for the cure of cancer in memory of Gay Francis Lucas, respectfully known as Mama Luke.  The mother of Kangol's manager and best friend-film executive Shaunda Lumpkin, Mama Luke ended her three year battle with breast cancer in May 2010.  The need to do more to find a cure for breast cancer became infectious.  That same oomph provided Hip-Hop star power and a growing arsenal of autographs for a Mama Luke tee that will be auctioned off  in September, 100% of the proceeds going directly to the American Cancer Society.  The time and support from the Hip-Hop community, the pink products such as the GGI watch, sneakers, skateboard, Nuvo and Kangol sponsorships are only a taste of the oomph that Hip-Hop has put into this battle.
I recently had the opportunity to chat with The Kangol Kid, ¼ of the iconic Hip-Hop group UTFO. Admittedly, I was surprised to receive the passion and willingness to take on breast cancer from a male, who also happens to be a Hip-Hop legend with lots of work and titles on his plate. Many of us are unaware of the intimate details behind the names and faces of the light pink color of a ribbon, cereal box or NFL jersey.  Reminiscing about his day to day exposure of the battle against breast cancer, Kangol went on to share.   "I used to visit and serenade her (Mama Luke) and the other chemo patients. They would tell me 'you're waking stuff up in me, cut that out!'  Making them feel special made me feel special.  I watched her deteriorate, watched her fight to remain as bubbly as she could be.  The 'when I'm gone' conversations were a crazy thing to swallow."   Describing her as the pep in the pep rally, Kangol reminisced on how Mama Luke never felt pity for herself, even at the very end.  She was into helping others so much that when the doctors told her there was nothing else they could do for her, she donated herself and the time that she had left to the study of experimental drugs used for cancer research.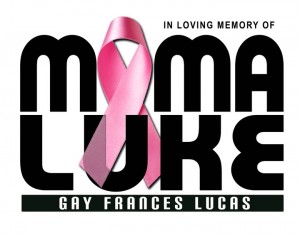 "Chemo is very hard on the patient." explained Kangol.  "I would often hear them say 'I was fine before they tried to cure me.'  I want to raise money to help whatever is hindering the cure (for cancer) but I also want to do something for the fighters, I want to play both sides of the fence.  While I see that you get your money for research, I want to make sure people going through it get something." Kangol explains.
The Mama Luke Salute takes a current breast cancer fighter "from a day of chemo treatment… to an evening of Royalty Treatment."  The organization selects a fighter to uplift, pamper and shower with gifts, "someone who often feels like their life is over, like they can't go on.  We're here, you're going to beat this, and we're going to help you do this in the midst of one of the most horrible things in your life."  Recalling a salute to Mama Luke, who had the chance to cruise and meet the cast of Meet the Browns and Mekhi Phifer weeks before she passed away, Kangol excitedly exclaims "for a few seconds, she was no longer sick!"
The Mama Luke Movement provides a different look to a common disease.  Hip-Hop's battle against breast cancer is official. Look for a Mama Luke Salute in your city and nominate a breast cancer fighter that can benefit from this experience. Please visit the Mama Luke Movement Facebook page www.facebook.com/mamalukegfl
The next stop for a salute is Washington DC at the Hilton Alexandria in May 2011.