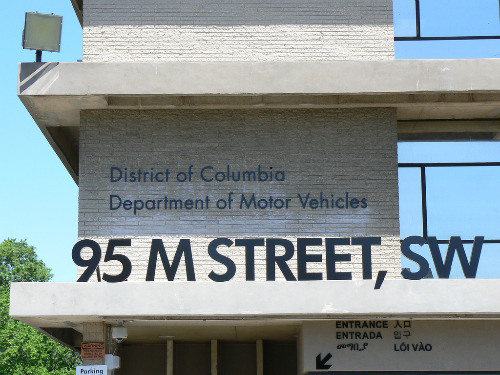 DCist – Adam Rosenberg recently visited the District's Department of Motor Vehicles website to change his address. He was impressed with the online upgrades that the DMV had made over the last year — even though the document which the DMV required to verify his new address, a Word file that anyone could have slapped together, was hardly foolproof. But Rosenberg wasn't out to dupe anyone. He let it slide and chalked it up to the cost of doing things online as opposed to waiting in the sometimes interminable lines at one of the DMV's service centers.
Yesterday, Rosenberg got a package in the mail, which he thought was his shiny new driver's license. But the license inside belonged to someone else.
"I'm sitting here looking at this letter that has all my information, and somebody else's identification," said Rosenberg. "Someone just carelessly sent me someone else's [license]."
Fortunately for that individual, Rosenberg isn't looking to assume anyone's identity, and he called the DMV to report the issue. After sitting through an automated service that "didn't go anywhere for about half an hour," he was transferred to a customer service representative, who immediately transferred him to the office of the Director; the person who answered the phone gave Rosenberg two options: he could mail back the license, or come to one of the DMV's brick-and-mortar locations to rectify the issue.
"They didn't seem to understand how huge of a problem this could be," Rosenberg said. "The way [the representative] was talking with me was like I was trying to pay a parking ticket. It wasn't really resonating that this is someone's driver's license."
Rosenberg's concerns about that lax authentication step have now intensified. If it was possible to have somebody else's license sent to him in the mail, who's to say that a more malicious person wouldn't be able to go to the DMV website, plug in some false information and obtain a driver's license in someone else's name?
"There are a number of security holes," said Rosenberg, who works for a software developer. "All you need to mess around with this is a little bit of someone's Social Security number. Because of the lack of verification, I could clearly mess around with someone's identification," he added.
Obviously, sending someone the wrong driver's license is an enormous mistake — and for all we know, perhaps just an honest misunderstanding. (Both the Department of Motor Vehicles and the Executive Office of the Mayor have yet to respond to DCist's requests for comment on this story.) But the fact that the individual who was sent the wrong license has to take action to rectify the situation or risk sending someone else's license via snail mail is another issue altogether. Rosenberg said that if he had time today or tomorrow, he'd try to get to the DMV and take care of it — though he expressed a desire to try and connect with the woman whose license he has in his possession.