Congratulations to vocalist Michael Muse.
On Sunday, February 11th, Mike made a special announcement to a large audience of admirers during his live performance at the Bethesda Blues and Jazz Supper Club.  While talking about some of the trials in tribulations that he has endured over the past few years, to include his son, who still remains missing to this day, and the passing of his mom, he did share a blessing as he announced that he's just been picked up and is now the new lead singer for the world renowned Philadelphia soul group The Stylistics.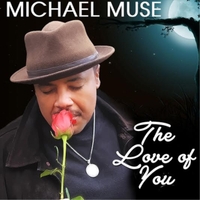 Many of us in the DC area are well familiar with Michael's soothing voice, as he has been blessing the city with it for over 30 years with groups such as Rare Essence, The Legends, Familiar Faces, and First Touch.  And I have personally been blessed to share the stage with him in such groups as Little Benny and The Masters and Proper Utensils.
As a matter of fact, the very first time I ever heard Michael sing was back in 1982 when he first joined the band Rare Essence. They were doing an outside gig in River Terrace, and the song he sang was a Delfonics tune called "Treat Me Right."
In addition, Michael has also recently released his very first solo CD after so many years, entitled "The Love Of You", which I was also blessed to have been chosen to design the cover of that project.  And I'm definitely 'syced' to see my former band mate continue to making his dreams come true.
Michael will be making his Stylistics debut at the Valentine's Day Soul Jam – Constitution Hall on Friday, February 16th. (GET TICKETS HERE)
CHECK OUT THE CLIP BELOW, AS MICHAEL MUSE MAKES HIS ANNOUNCEMENT TO TH CROWED: